E. coli: Economic impact on the agriculture industry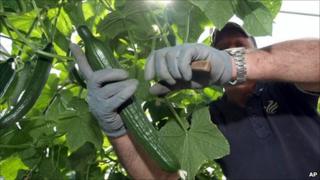 Angry demonstrations in Spain provide ample evidence of the dramatic impact of the E. coli outbreak on the livelihoods of farmers.
Tens of thousands of kilos of fresh fruit and vegetables in the country are being destroyed as consumers across Europe and beyond shun these staples for fear of contracting the potentially deadly bacteria.
There are no official figures, but producers' associations in Spain estimate that losses are running at around 200m euros ($290m; £180m) a week nationwide.
But as soon as Spanish cucumbers were given the all clear earlier this week, the desperate search for the origin of the outbreak spread across the continent. Spain's problem immediately became Europe's problem.
This fact was brought home in no uncertain terms when the Russian health service banned all vegetable imports from the entire European Union.
Total vegetable exports to Russia are estimated at some 600m euros a year, with Spain, France, Germany and Poland the biggest exporters.
Several other countries have also curtailed their imports of European vegetables.
The European Commission's (EC) condemnation of Russia's move as "disproportionate" is no consolation not only to the thousands of farmers across Europe who suddenly have no market for their produce, but for the transport companies, wholesale markets and retailers who rely on them.
Together, they generate huge sums of money. David Hughes, emeritus professor of food marketing at Imperial College in London, estimates the European fruit and vegetable market is worth about £50bn a year.
As Philippe Binard from the European Fresh Produce Association confirms: "Turnover of fresh vegetables was about 1bn euros a week across Europe [prior to the outbreak of E. coli]. Now it is virtually at a standstill."
The countries hit hardest will be those with the most cases of E. coli, says Prof Hughes - which means Germany, Sweden, Denmark and France - and those that export to them.
In fact, there have been no cases of the infection in Spain. Germany's premature finger of blame has been hugely damaging economically.
The one saving grace is that the Spanish season for many vegetables is now over.
Compensation
The EC is well aware of the serious cashflow problems facing cucumber growers, says EU agriculture spokesman Roger Waite.
He says the commission will find some way of helping producers, although this may not come for some months.
"The problem is the crisis is not yet over," Mr Waite explains. "Our priority is to make sure the health problem goes away.
"It's only then, when... consumption picks up, that we can... get a clear picture of the actual losses."
And only when the losses are calculated can the thorny issue of compensation be addressed. This has led to the rather bizarre situation where farmers are continuing to harvest their produce even though they know full well it will be destroyed.
Only by proving what they have lost can they hope to gain compensation.
Quite how financial assistance can be provided is unclear.
National governments can provide state aid, but they need permission from the commission - something that can take four to eight weeks.
Alternatively, all of the 27 EU governments could agree unanimously to allow state aid to be paid out right away.
But they won't pay until they know what the bill is.
Long search
They, and the farmers, could be in for a long wait.
In fact, with no breakthrough in the search for the origin of the E. coli bacteria, there is no end in sight for the hardship facing the agriculture industry.
The head of the German public health body tackling the outbreak has said it may be months before it ends. "We may never know" the source of the problem, he said.
And while the search continues, demand for fresh vegetables, and fruit by association, will remain massively depressed, with potentially severe economic consequences for the European agriculture industry.
Big bill
One country that will not suffer, says Professor Hughes, is the UK.
"When food scares arise, we tend to stick with what we know," he says. With UK consumers increasing their consumption of locally-produced vegetables, the outbreak "will probably be a strong positive" for UK producers, he argues.
Consumers across Europe will also move to frozen and canned alternatives, he adds.
However, the overwhelming majority of individuals and businesses involved in the production and sale of fresh vegetables and fruit across Europe, which generate about 15% of the continent's total agricultural output, will suffer greatly due to this deadly outbreak.
No-one yet knows just how damaging it will be to Europe's agriculture industry, and to the continent's wider economy, but the bill is big, and is rising by the day.