Centrica suspends South Morecambe gas field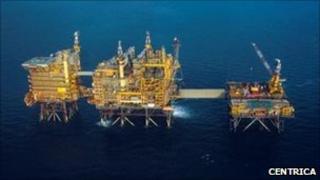 Centrica, the owner of British Gas, has mothballed its South Morecambe gas field, following through on a threat made last month in response to increased taxes.
The firm said the government's decision to raise offshore drilling taxes had made the field uneconomical.
However, it added the site would be brought back into operation once the wholesale gas price reached a level where it became economical again.
No jobs would be lost, Centrica said.
Tax rise
One month ago, the firm said it might not reopen one of three sites it was closing in Morecambe Bay for maintenance.
The Morecambe Bay North field has already reopened, while maintenance continues at the Rivers site.
The bay supplies about 6% of the UK's annual gas needs.
In his Budget, Chancellor George Osborne raised a supplementary tax on oil and gas production from 20% to 32% in order to raise £2bn to fund a cut in fuel duty.
Centrica said that this raised the effective rate of tax on the South Morecambe field to 81%.
"At this level of tax, profitability of Morecambe South field can be marginal and so we expect this field to operate on a more intermittent basis in future," a Centrica spokesperson said.
Industry bosses have criticised the new tax, describing it as short-sighted, while John Cridland, director-general of employers organisation the CBI, revealed this week he had written to the chancellor asking him to reconsider the tax rise or grant exemption to older, more costly fields.