Peppa Pig in deal with Fisher Price for US toy launch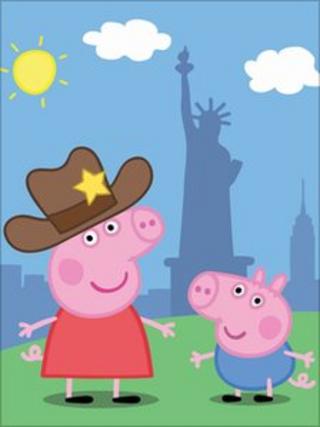 Entertainment One (ETO) has signed a deal with Fisher Price to develop a toy line based on the Peppa Pig animated children's TV series.
ETO, which owns the distribution rights for the show in the US, said it hoped to replicate the success of Peppa Pig toys in the UK, which it said generated more than £200m in sales last year.
It added the details of the deal would be finalised "in the coming weeks".
Fisher Price is a subsidiary of toy giant Mattel.
Peppa Pig launched on US TV in February and has proved successful.
"The appointment of Fisher Price is an exciting development in the expansion of Peppa Pig in the US," said Darren Throop, chief executive of ETO.
"The initial success of the TV ratings illustrates the potential of the show and the confidence we have that the brand will be a big hit with US consumers."
ETO shares gained almost 5% in London following the announcement.
The company specialises in the acquisition, production and distribution of film and television content.