Nationwide has 'excellent' year despite tough market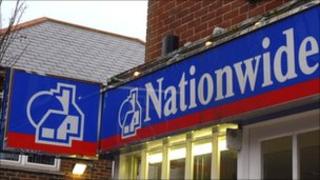 Britain's biggest building society, Nationwide, has said it had a "strong" financial year despite a backdrop of a smaller mortgage and savings market.
Although pre-tax profits fell 7% to £317m, this was largely due to accounting changes, and underlying profits rose 30% to £276m.
Chief executive Graham Beale said it was an "excellent" performance given the tougher economic environment.
The amount written off for bad loans to customers fell 35% to £359m.
Mr Beale said in a statement: "We have achieved significant growth in our franchise against a backdrop of smaller mortgage and savings markets and an abnormally low interest rate environment.
"This has been another strong year for Nationwide, during which we have recorded excellent financial results, further improved the strength of our balance sheet," he said.
Total net inflow of money for the year was £600m, a big turnaround from the previous year when Nationwide saw outflows of £8.2bn.
There was a £1.6bn increase in retail deposits and more than 350,000 new current accounts were opened.
Nationwide's gross lending was £12.8bn, representing a market share of 9.5%.
The society's Tier 1 ratio, a key measure of financial strength against future financial problems, rose to 12.5% from 12.2%.
On Tuesday, credit ratings agency Moody's said Nationwide was one of several UK finance firms that it was reviewing for possible downgrade, an announcement that hit bank shares.
Nationwide was a small player in the controversial payment protection market, where customers took out insurance against being unable to repay loans.
The building society said it had set aside £16m for compensation to customers, which Mr Beale said "compares very favourably with the several billions announced by the banks during the past month".