US Treasury agrees to sell $5.8bn worth of AIG shares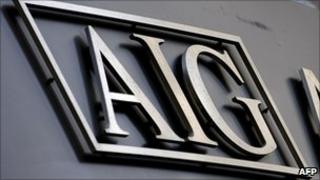 The US Treasury has agreed to sell part of its stake in American International Group (AIG), as it winds down ownership of the global insurer.
The government plans to sell 200 million AIG shares at $29 (£18) each, a total of $5.8bn.
It stands to make as much as $7.1bn, if Wall Street banks buy more shares from the US Treasury.
After the share sale, the government's ownership stake will fall to 77% from 92%.
"Today's announcement represents an important milestone as we continue to exit our stake in AIG," Treasury Secretary Tim Geithner said in a statement.
"The decision to provide this assistance was exceptionally difficult, but it's clear today that it was essential to stopping a financial panic, preventing a severe economic collapse, and helping save American jobs."
During the financial crisis of 2008, the government's bail-out of AIG totalled $180bn.
It was widely criticised at the time, as taxpayers resented having to foot the bill for what they perceived as Wall Street excess.
US taxpayer profits
The government is estimated to have paid around $28.73 for each share of AIG.
Tuesday's share sale translates into a profit of $0.27 per share for the Treasury and by extension, the taxpayer.
AIG made a profit of $269m in the first three months of 2011, compared with $1.8bn a year earlier.
It was hurt by a $1.7bn payout for disasters including Japan's earthquake and tsunami in March.