Chrysler repays $7.6bn in government loans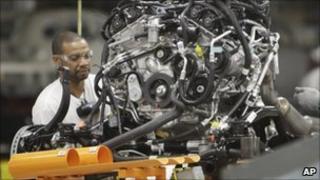 US car giant Chrysler has repaid $7.6bn (£4.7bn) in US and Canadian government loans that helped it stay afloat in 2009, six years ahead of schedule.
The repayments include $5.9bn to the US and $1.7bn to Canada.
Plummeting sales forced Chrysler, alongside its Detroit rival General Motors, to turn for help during the global downturn.
US President Barack Obama called the repayment a "significant milestone" for the US auto industry.
The carmaker was able to make the repayments with cheaper loans from institutional investors and banks, which, it said, would save hundreds of millions of dollars a year in interest payments.
However, the US government stills holds a stake in the company.
"Less than two years ago, we made a commitment to repay the US and Canadian taxpayers in full and today we made good on that promise," said Chrysler chief executive Sergio Marchionne.
"Paying back the loans, along with the financial community's investment in our refinancing packages, marks another step in the company returning as a competitive force in the global automotive industry."
Return to profit
US Treasury Secretary Timothy Geithner said: "Chrysler's early repayment of its outstanding [government] loans is an important step in the turnaround of this company and the resurgence of the auto industry".
The carmaker posted a quarterly profit in the first three months of this year for first time since 2007.
It made a net profit of $116m for the period, thanks to the success of its newer models and the overall recovery in global demand for vehicles.
Chrysler was forced into bankruptcy protection in the summer of 2009.
Upon its emergence, Italian carmaker Fiat bought a 20% stake in Chrysler. It then increased this first to 25% and then to 30% earlier this year, before taking a 46% shareholding last month.
The company has shared its technology and management with Chrysler, helping the American firm to turn around its fortunes.