Property sales stay low, Revenue figures show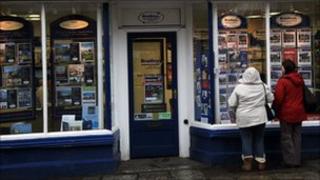 Property sales in the UK are still lower than a year ago, according to HM Revenue & Customs (HMRC).
Just 66,000 homes were sold in April, 1,000 fewer than in March and 6,000 fewer than in April last year.
Sales in the first four months of the year have been 5% lower than in the same period of 2010.
The figures suggest that with the continued rationing of mortgages, and the economy in the doldrums, there is little chance of sales reviving.
Last week, the Council of Mortgage Lenders (CML) reported that total mortgage lending in April had fallen back from March and was 5% down on a year ago.
The drop was attributed to seasonal factors, such Easter falling in April, and an extra bank holiday.
However, all the accumulating evidence on sales, prices and mortgage lending indicates that the property market has stagnated, with little obvious evidence of any immediate upturn.
The Bank of England reported at the start of the month that the number of mortgages approved but not yet granted, a traditionally accurate indication of near-term trends, had risen in April to 47,557.
But that figure was only slightly higher than the monthly average for the past six months.