UK public borrowing higher than expected in April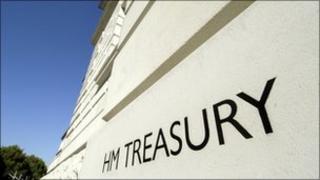 The UK saw its worst April public sector net borrowing on record last month as tax receipts fell, the Office for National Statistics said.
Public borrowing, excluding financial interventions such as bank bail-outs, hit £10bn, compared with £7.3bn the previous year.
The ONS said tax receipts in April last year were boosted by a one-off bank payroll tax which raised £3.5bn.
April's figure was higher than many analysts' expectations of about £6.5bn.
Economists said the figures were a surprising disappointment.
"The public finances have got off to a pretty bad start this year," said Hetal Mehta, at Daiwa Capital Markets. She warned that the position could worsen if economic growth was weaker than expected.
Samuel Tombs, at Capital Economics, said he believed the government would struggle to meet its borrowing forecasts this year.
However, he added: "Nonetheless, these are just one set of figures and the trend in borrowing should improve as more of the spending cuts kick in later this year."
There was some good news for the government as borrowing figures for the year to March 2011 were revised downwards to £139.4bn, from £141.1bn.
The revision was mainly due to the tax take being boosted from a rise in VAT to 20% from 17.5%, said the ONS.
But the higher-than-expected borrowing in April pushed the government's debt to a record £910.1bn, or 60.1% of GDP.
A spokesman for the Treasury said: "One-off factors affected borrowing, but it is clear from the downward revision to last year's borrowing figures that the government's deficit reduction strategy is making headway in dealing with our unsustainable deficit."
Government spending in April was 5% higher than a year ago at £54.1bn.
Restoring stability
David Kern, chief economist at the British Chambers of Commerce, said it was clear that the government's plans to reduce the deficit by more than £20bn over the year was proving difficult.
But he said the government must press on with its plans. "The fragility of the economic recovery is creating a difficult backdrop, but the government must not deviate from its strategy to restore stability in the UK's public finances," he said.
"Businesses support the measures being taken to reduce the deficit, and the emphasis should be on spending cuts rather than tax increases," Mr Kern said.