Wal-Mart China executives resign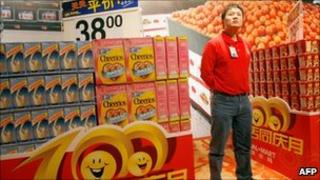 Two top Wal-Mart executives have resigned from the company's China business, at a time when the US retail giant is trying to expand in a key growth market.
Wal-Mart China chief financial officer Roland Lawrence and chief operating officer Rob Cissell have left "to explore other opportunities", the company said in a statement.
It did not name any replacements.
Wal-Mart entered China in 1996 and now has 333 stores there.
This includes 104 stores operated by Trust-Mart, in whom Wal-Mart bought a 35% stake in 2007.
Wal-Mart competes with France's Carrefour and the UK's Tesco in China.
Shanghai-based retail analyst Marie Jiang, from Pacific Epoch, said the departures could cause some concern.
"The psychological impact [of the departure of the executives] is seen to be larger than the material as employees of its China operation may see an unstable top management team," she said.