Carmaker Hyundai warns of serious supply disruption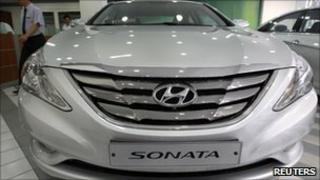 Hyundai, South Korea's top carmaker, has warned of a severe production disruption, because of a shortage of engine parts.
A strike at parts supplier Yoosung Enterprise has affected production, and it could get worse on Tuesday.
"Our production may be seriously affected starting today," a Hyundai spokeswoman told BBC News.
Yoosung manufactures piston rings, which are key components in car engines.
Hyundai has already suspended production of diesel engines at its Ulsan plant and has warned a shortage of parts could also force it to stop production of petrol or gasoline engines.
Hyundai said the supply disruption could also hit its subsidiary car manufacturer Kia Motors.
Yoosung also supplies parts to the Korean units of General Motors and Renault.
Engine parts
The supplier halted production last week, after employees clashed with management over wages.
Hyundai said its engine inventory would start to dry up on May 24.
The disruption comes as South Korean carmakers are poised to take market share from their Japanese rivals, which are suffering from parts shortages of their own.
Hyundai reported record profits in the final three months of last year, due in part to strong overseas sales in China and the US.
Analysts had been expecting the carmaker, the fifth-biggest in the world, to continue to perform well in 2011.
A serious disruption could force the experts to revise those forecasts.