Iceland volcano: Air passenger rights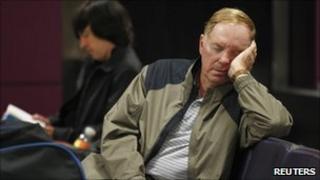 The latest volcanic eruption in Iceland has caused a number of flight cancellations with the threat of further disruption if the ash cloud spreads into the UK and, possibly, other parts of Europe.
So what the rights of those passengers who may be forced to cancel holidays?
What are my basic rights?
You have a contract with the airline to get you from A to B. So that means the airline should try to re-route your journey.
Passengers have been told contact their airline, travel agent or airport before they travel if they think they might be affected.
If they are affected, passengers can generally choose to have a refund or to change to another flight. Airlines are usually quite swift to give refunds and should not charge an administration fee.
When things are moving again, those rebooked on more expensive flights will not have to pay the difference.
What happens if I am stranded and trying to get home?
If a flight is cancelled, or delayed for more than five hours, in Europe, there are strict European rules in place, which mean that the airline is obliged to provide assistance at the airport. This includes supplying meals and refreshments, along with accommodation if an overnight stay is required.
This also applies to people who are booked on flights within the UK.
People flying into the European Union from overseas are also covered by the rules, as long as they are travelling on a European airline. Passengers on non-EU carriers leaving from an EU airport are also covered.
Other key points include:
There should be no time limit on their provision of accommodation and food, even though it adds to the financial pressure on airlines
If passengers have organised their own return travel or hotel stays, they should apply to the airline for the money back when they return. But if these are costs are "unreasonable" then the airline will not pay. Alternative return transport organised by airlines will be safest as there will be no need to pay out and claim back
Those flying on non-EU carriers, from outside the EU, are entitled to a refund or to be rebooked under alternative regulations, but will probably have to make a claim to their insurance company for hotel and food costs
Those on "codesharing flights" get the rights given to passengers of the airline they travel with irrespective of the ticket they hold. For example, a passenger with a BA ticket but travelling on an American Airlines flight into the EU would not be entitled to the assistance, whereas a passenger on a BA flight with an American Airlines ticket travelling into the EU would. All passengers, whatever ticket they hold and airline they fly with, are entitled to assistance on flights from the EU
If the situation worsens and passengers end up stranded overseas, it is worth them keeping expenditure on continuing stays to a minimum and then making a claim to the airline.
Rights will apply to future flights, even if passengers book now and find there is still disruption weeks from now.
Does the airline look after me if I have two single tickets?
This has been a source of discussion with the emergence of budget airlines.
However, the EU rules on assistance apply equally to any journey, whether one-way or part of a return ticket.
Technically speaking, the airlines should arrange and pay for the hotel and meal costs for passengers while they wait for the new flights.
Those who have single tickets and miss a return flight with one airline because their outbound flight with another airline is cancelled might not get a refund for the return flight.
How long is this expected to last, and what about insurance?
That depends on the ash situation and the disruption is changing minute-by-minute.
The disruption still remains relatively low-scale, and travel insurance is not supposed to duplicate what the airlines should offer automatically.
Some travel insurance policies will pay out if a holiday, with its associated costs such as hotels, is cancelled owing to the flight problems. However, this depends on the small print so it is worth looking at your policy.
Previous eruptions caused some providers to offer insurance policies that specifically protected against ash cloud disruption.
Package holidays have their own protection. Operators must refund customers for the whole holiday if trips are cancelled, meaning they could not get to their destination.
In reality, operators tend to give three options to people on package deals. They are: deferring the leaving date of the holiday, transferring to another holiday of the same or similar value, or a refund of the amount paid for the whole holiday.
There is also a potential claim to your credit card provider if you booked using your card.
We suffered ash cloud disruption last year, how were passengers treated?
The eruption of another volcano in Iceland in April 2010 led to a shutdown of airspace for more than a week across Europe.
More than 150,000 UK passengers were stranded overseas.
Some airlines were initially very reluctant to cover passengers' costs, but threats from the European authorities brought them into line. It did start a debate on the levels of compensation passengers should expect.
Insurers paid out £70m in subsequent claims, with the vast majority of cases settled.
The Financial Ombudsman Service said it was gearing up for numerous unsettled disputes between insurers and holidaymakers.
However, it said most insurers extended their cover, even when policies were ambiguous, and sorted out problems with customers quickly.
What happens if I cannot get back to work because of disruption?
If you are missing work because of the flight disruption, then this is still considered to be unauthorised leave and your employer does not have to pay you.
Many employers would suggest that the time is taken as holiday but the employee would have to agree to this. They might discuss the possibility of working remotely, if possible.