Belarus devalues rouble by a third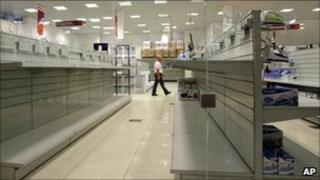 Belarus has cut the official value of its currency against the dollar by 36%.
The rouble is not freely convertible, with currency transactions controlled by the country's central bank.
The dollar now buys 4,930 roubles at the official rate, up from 3,155 - but still well below the freely-traded interbank rate of about 7,000 roubles.
The country faces a severe financial crisis, thanks to a large trade deficit and rapidly falling hard currency reserves.
'Positive step'
Many shops have been emptied of goods, as importers lack hard currency to purchase foreign goods.
Exporters are required to repatriate 30% of their foreign currency earnings at the official exchange rate.
"What they've done today is a positive step," says economist Alex Pivovarsky of the European Bank for Reconstruction and Development.
He explains that Belarus has lost international competitiveness over recent years, not least because its government raised wages significantly last year in the run-up to elections.
International monitors say those elections were rigged, and the US and Europe have imposed sanctions on the Belarus leadership.
While the devaluation means that wages are not worth as much in dollar terms, it does mean the country will become more competitive, analysts said.
Increased lending
The trade deficit stood at $9.3bn (£5.6bn) last year, according to an estimate of the International Monetary Fund, or 17% of economic output - one of the highest levels in the world.
Loss of competitiveness is only one reason for the deficit, which has risen steadily over the past five years.
The Belarus government directed banks to lend heavily to boost the economy in recent years.
And Russia has raised the price that Belarus must pay for oil and gas imports, from their previously heavily subsidised levels closer towards the international market price.
With hard currency rapidly draining from the country's reserves, the president, Alexander Lukashenko, secured a $3bn bail-out loan from Russia last week.
However, the rescue loan, which will only be available in instalments over three years, only covers a fraction of the country's enormous trade deficit.
It also came with conditions from Moscow, including a three-year privatisation programme which is due to start next month.
The country had already laid out positive steps towards liberalising its economy as part of its latest five-year plan, according to Mr Pivovarsky.
This included the planned transfer of about a fifth of the workforce into the private sector, by means of privatisation, as well as encouraging start-ups and foreign direct investment.