Airline shares hit by Icelandic volcano ash fears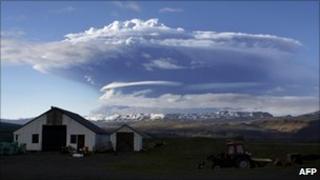 Shares in Europe's biggest airlines have fallen on fears that Iceland's latest volcanic eruption could disrupt flights across the continent.
International Consolidated Airlines and Easyjet fell by about 5%, with Air France KLM down 4.5%.
Flights in, to and from Scotland have been cancelled as ash from the Grimsvotn volcano continues to head towards the UK.
One year ago, Icelandic ash caused huge disruption to flights in Europe.
That was caused by the country's Eyjafjallajokull volcano.
Airport closure
British Airways, KLM, Glasgow-based Loganair and Eastern Airways have all cancelled flights on Tuesday, as the Civil Aviation Authority (CAA) warned that further disruption cannot be ruled out.
Icelandic air traffic control has already created a no-fly zone around the Grimsvotn and cancelled all domestic flights. The country's main international airport, Keflavik airport near the capital Reykjavik, has been closed.
However, the UK's Met Office, which runs Europe's Volcanic Ash Advisory Centre, said the latest eruption would not necessarily lead to airspace closures further afield.
Shares in Ryanair were also hit, falling 6.2%, but this was in part due to the budget airline's warning that it faced a tough winter ahead because of rising fuel costs.
This overshadowed the group's reported 23% rise in profit of 374m euros ($525m; £325m) for the year to March.
Shares in German carrier Lufthansa fell 3.5%.