Honda workers forced to take 14 summer days off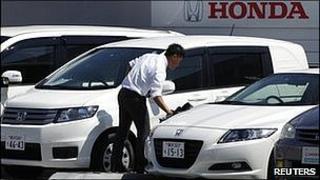 Workers at Honda plants in Japan will take 14 days off between June and August because of continuing disruption caused by March's disaster.
That month's earthquake and tsunami have created a parts shortage which has in turn hit vehicle production.
Workers will take an extra day off in June, 10 more in July and three in August.
They will work those days in the latter part of the year, when Honda hopes to make up the production shortfall.
All production at the Saitama and Suzuka car plants, and part of production at the Hamamatsu motorcycle plant, will be shut down for the 14 days concerned.
Additionally, Honda has sent a message to workers and their union saying that staff may be asked to take additional days off in coming months if the parts shortages continue.
The 11 March disaster in north-east Japan forced Japanese manufacturers, including Honda, to reduce production in the wake of damage to plants.
Honda does not expect to return to normal levels of production until late this year.