Ryanair profits up but it warns on lack of 2012 growth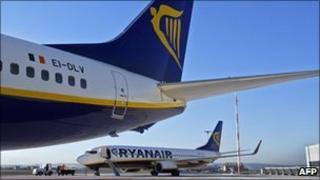 Irish budget carrier Ryanair has reported a 374m euros ($525m; £325m) annual profit, a 23% rise.
But the airline says high fuel cost, and a lack of growth in capacity, will mean no increase in profit next year.
It envisages a 4% growth in passenger numbers in 2012, to 75 million, and said that average fares would rise in line with increased fuel costs.
The airline saw 14,000 flights cancelled during the year to 31 March due to volcanic ash, snow and strikes.
It also said its fuel costs rose by 37% during the 12 months.
However, the airline now has 90% of its fuel needs hedged at a cost of $820 per tonne, or roughly $82 a barrel, which it says would give it an advantage over competitors.
Meanwhile, more lucrative routes will help increase fares.
And Ryanair said growth in France and Germany should compensate for weakness in southern Europe and the Irish domestic market.
"Higher fares will only help us to finance higher fuel and rising sector length related costs, and accordingly, we expect profit after tax for [full-year 2012] to be similar to the [full-year 2011] result of 400 million euros," chief executive Michael O'Leary said in a statement.
He also told the BBC that the company was "looking forward with some cautious optimism for the next 12 months".
Volcano fears
It comes as Iceland has closed its main international airport and cancelled domestic flights after its most active volcano, Grimsvotn, began erupting.
There are worries that if the ash cloud spreads south to other parts of Europe there could be a repeat of last year's cancellation of flights.
"We don't think there will be anything like the disruption we saw last year," said Mr O'Leary.
He also said it was unfair that airlines had been forced to pay compensation to passengers for what had been "an act of God".
"I don't believe airlines should be the insurer of last resort," he added.