MPs criticise Kraft chief executive on Cadbury takeover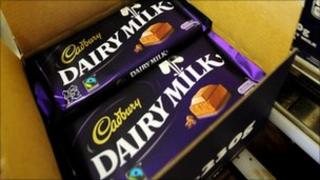 MPs still have "significant concerns" about Kraft's takeover of Cadbury, according to a report.
The Business, Innovation and Skills Committee also criticised Kraft's chief executive for her "regrettably dismissive attitude" in refusing to give evidence to the panel.
The MPs said Kraft's attitude "steered close to a contempt of the House".
Kraft, which bought Cadbury for £11.5bn in February 2010, said it had "been a good steward" of the company.
The report, Is Kraft working for Cadbury?, said the committee members were left frustrated when Kraft boss Irene Rosenfeld turned down repeated requests to be questioned.
She was asked to appear either in person or by video-link to give assurances about future employment levels at the chocolate company.
The committee also said Kraft had failed to accept criticism from the Takeover Panel following its U-turn on the closure of Cadbury's Somerdale factory near Bristol last year.
During the takeover process Kraft vowed to keep the factory open and protect about 400 jobs.
The reversal prompted outrage among workers and their supporters, with union leader Jack Dromey calling Kraft "utterly cynical to pretend it could reprieve the plant".
'Encouraging'
The MPs' report said: "In its correspondence with the committee, Kraft in our view steered close to a contempt of the House. We trust that that will not be repeated."
Kraft executive vice-president Marc Firestone had told the committee that he and two other executives were best placed to deal with the questions.
However, the committee said they were "encouraged" by Kraft's promise to continue investing in Cadbury.
The MPs also said they understood that no further jobs would be cut in the UK.
In the report, released on Monday, they said: "Whilst Kraft did not extend its undertakings on jobs, the strong indication to us was that the extent of investment at Bournville and other sites would only make sense alongside retention of employment levels in the UK.
"We trust that our interpretation is correct. If it is not, we shall expect any change in the position to be made public by Kraft at the earliest opportunity."
A spokesman for Kraft said: "The facts show that we have been a good steward of Cadbury." He said that this was reflected in the MPs' report.