Titleist golf brand spun off by Fortune to Fila Korea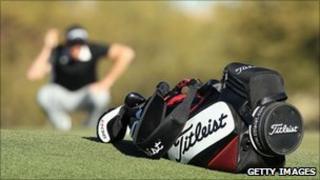 Fortune Brands has sold its golf business, including the Titleist equipment brand, to Korean investors led by Fila Korea, for $1.2bn (£740m).
The deal is part of Fortune's strategy to focus purely on its drinks business, led by its Jim Beam whisky brand.
The price for its Acushnet golf unit, which made $80m operating income last year, is higher than had been expected.
Fila Korea, which bought the eponymous Italian sportswear brand in 2007, plans rapid growth for the golf line in Asia.
"With our extensive knowledge and reach in Asia, we believe that the Acushnet brands have incredible new opportunity for growth in the emerging markets in Asia," said Gene Yoon, the firm's chief executive.
Mirae Asset Private Equity - Korea's largest private equity fund - were also involved in the acquisition.
The Koreans beat a rival bid said to have been mounted by private equity firm Blackstone and Callaway Golf.
Premium spirits
Illinois-based Fortune Brands announced last year that it would spin off its gold and home security businesses, and focus purely on drinks, in response to pressure from a key shareholder, William Ackmann.
Acushnet made revenues of $1.2bn in 2010 - more than half of it in the US - compared with the $2.7bn made by Fortune's alcoholic beverages line.
Its Jim Beam business is the fourth largest premium spirits business in the world.
"This transaction is a very important milestone as we execute our proposed plan to separate our three strong businesses for the purpose of maximising long-term value for out shareholders," said Fortune boss Bruce Carbonari.
The firm will now focus on separating out its home and security business - which includes Master Locks, Simonton windows and Masterbrand cabinets - in preparation for its sale.