African apps boost business growth
By Louise Greenwood
BBC Africa Business Report, Nairobi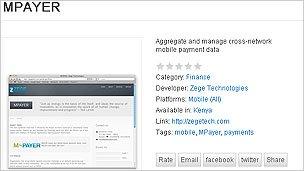 Africa is the world's fastest growing telecoms market and mobile phones have transformed the lives of Africans everywhere.
Now a host of new mobile phone applications, developed by software designers across the continent, are promising to boost development and business growth.
On the tranquil, leafy campus of Nairobi University, IT graduate and software designer Kariuki Gathitu opens his laptop and proudly displays the details of his most ambitious project to date.
"M-Payer" is a mobile phone application enabling businesses to make and receive real-time money transfers.
Twenty-seven-year-old Mr Gathitu, the founder of Zege Technologies, is one of a new breed of African entrepreneurs, using telecoms and IT technology to tackle some of Africa's most intractable business problems.
He told Africa Business Report, "[M-Payer] has come into the mobile money scene to solve a huge challenge, and this challenge is basically the interoperability, aggregation and integration of mobile money."
The apps backup website shows how subscribers can pay bills, receive cash and transfer funds with just a few taps on a mobile, and cash will clear in minutes, not hours or days.
"M-Payer" claims it can end the "cheque-in-post" culture that has ruined many small African firms, often operating on tiny margins, with little or no access to bank credit.
On the other side of the continent in Ghana, customers queuing at a pharmacy in central Accra wait for their medication.
The World Health Organization has estimated that up to 30% of medicines sold in Africa are counterfeit, and the trade in fake drugs is putting millions of lives at risk every year. Getting hold of safe reliable treatments has always been a hit-and-miss affair.
"M-Pedigree" is the mobile phone app that's been developed to tackle the problem. Customers buying any medicine are asked to scratch off a verification strip on the packaging which reveals a numeric code. A quick text to M-Pedigree will confirm with the manufacturer if the goods are genuine or not.
Selorm Branttie of M-Pedigree hopes the mobile app will help curb the illegal trade in fake medicines.
"The drug industry in Ghana is worth about $750m a year," he says. "Assuming about 10% of those are counterfeit drugs, we are talking about $75m a year going into the wrong hands, being invested into the wrong industries."
The wider hope is that mobile phone applications could dramatically change the prospects of some of Africa's poorest and most downtrodden workers.
"M-Farm" is another Kenyan initiative that aims to give rural farmers a fairer deal when selling their produce.
A non-subscription based mobile app, it gives real-time market prices for crops and matches up farmers with buyers, cutting out costly brokers and middle-men. Some Kenyan farmers report that their profits have risen by half since subscribing to M-Farm.
With its aspiration to become a middle-income country by 2030, the government want to transform Kenya into an information-rich society and nurturing IT talent and tech business start-ups is central to these aims.
Just opened this year, with the help of World Bank funding, is "M:Lab", East Africa's new business incubator purely devoted to firms developing mobile phone applications.
John Kileti, manager of M:Lab East Africa, says Kenya is now becoming a world hub for mobile telecom development, precisely because of its position as a low-income, relatively underdeveloped economy.
"[The mobile] is much cheaper to get, plus it can be used outside where there is no infrastructure like power. Essentially the mobile is going to be huge for us in terms of innovation, much more than the PC was a few years ago."
Related Internet Links
The BBC is not responsible for the content of external sites.