Energy bills likely to rise, Scottish & Southern warns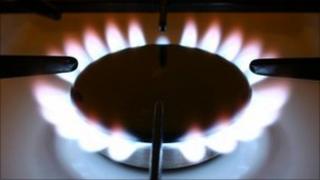 Scottish & Southern Energy (SSE) has become the second big energy supplier to hint that gas and electricity prices may go up steeply this year.
The company's pre-tax profits rose 29% in the last financial year, to £2.1bn.
However, it said its household gas business had been losing money, with a 25% rise in wholesale prices last year outstripping December's 9% price rise.
SSE warned that wholesale gas and electricity prices for the coming year had risen since then by as much as 33%.
"Forward annual wholesale prices for electricity and gas have risen by around one quarter and around one third respectively in the six months following SSE's 29 October 2010 announcement of a price increase for household gas supply," the company said.
Earlier this month Centrica, which owns British Gas, said its customers might have to pay more for their energy.
It said that "end-user prices" did not reflect the price it was having to pay in the wholesale gas market.
The Bank of England has also cited an expected rise in energy bills as one of the main reasons for its recent prediction that the inflation rate may rise even further this year.
'Grinding teeth'
Audrey Gallacher, of Consumer Focus, said: "Hard-pressed consumers will be grinding their teeth in frustration as the second of the Big Six hints at price rises while reporting increased profits."
"Customers simply don't have faith that they are being asked to pay a fair price and Ofgem has shown this lack of trust has firm foundations," she added.
In March the energy industry regulator Ofgem demanded radical changes to the industry and the dominance of the Big Six energy suppliers.
As well as accusing firms of bamboozling customers with over-complex tariffs, it said it had found evidence that major energy firms "have adjusted prices in response to rising costs more quickly than they reduced them when costs fell".
SSE rejected this accusation and said that Ofgem's analysis was false.
"The analytical flaw arises because energy suppliers like SSE recover some of their fixed costs (such as network costs in gas) through charges on units of energy used," it argued.
"This means that if consumption is reduced, some fixed costs are not recovered by suppliers who, as a result, have to ensure unit prices are at a level that enables them to recover fixed costs."