HMV sells Waterstone's book chain to Alexander Mamut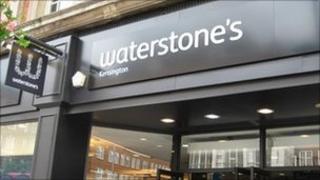 Troubled retailer HMV has agreed to sell its Waterstone's book chain to a fund controlled by Russian billionaire Alexander Mamut for £53m.
Mr Mamut already owns 6% of HMV, which has issued a string of profits warnings this year.
The sale to his firm A&NN Capital Fund Management still needs shareholder approval, but HMV said the deal should be finalised by the end of June.
HMV has estimated debts of £170m and is under pressure to raise cash.
Only last month it said it expected annual profits to be about 25% lower than it had hoped.
The retailer has been struggling to cope with declining sales in the face of increasingly fierce competition from supermarkets and online retailers such as Amazon and iTunes.
It announced on Friday that like-for-like sales, which strip out the impact of sales from stores open less than a year, for the 12 months to the end of April slumped by 13.7%. Like-for-like sales at Waterstone's fell by 3.8% over the same period.
The sales slide has become worse since the start of the year. In the 17 weeks to 30 April, like-for-like sales at HMV stores in the UK and Irish Republic fell 15.1%, and were down 8.4% at Waterstone's.
Amazon said this week that it was selling more e-books in the UK than hardbacks, underlining the pressure on High Street book chains such as Waterstone's.
Globally, the online retailer is now selling 105 e-books for every 100 printed books.
It added that sales of e-books so far this year were three times the number sold in the same period of 2010.
'New home'
HMV said it had little choice but to sell the book chain.
"It has become clear that the group needs to reduce its borrowing requirements in the short term in order to achieve a satisfactory refinancing," the company said in a statement.
"The board has concluded that the most timely and effective way to achieve this is through the disposal of Waterstone's."
Simon Fox, chief executive of HMV Group, said the sale to Mr Mamut "provides a good new home for the business".
Mr Mamut said he was "extremely pleased to have reached an agreement to acquire Waterstone's and its great heritage".
New direction
James Daunt, who has a chain of six bookshops in London, Daunt Books, will run Waterstone's once the deal is finalised.
He will carry out a review of the business, which currently comprises 296 Waterstone's bookstores, employing about 4,500 people.
Mr Daunt told the BBC News website that running a handful of shops in central London was "clearly very different" from running the UK's biggest, and only remaining, national bookseller.
But he said: "I know how to run bookshops and believe the basic principles of bookselling are the same however many shops you have."
Alexander Mamut signalled a potential change in direction for the UK's largest bookshop chain.
"The opportunity ahead to reposition Waterstone's as a regional and local community-orientated bookseller is an exciting one," he said.
"The business enjoys a great loyalty from its customers and I believe that there is considerable integrity and value in the brand."
Mr Daunt said the Waterstone's brand would remain, but said it was too early to say how the shops would change.
He did, however, express an ambition to bring some of the qualities of his Daunt Books shops to the national chain. He singled out their "individual characters", reflecting the areas they are in.
"One can do that up and down the land," he said. "One should aspire to do so."