Mitchells & Butlers looks to food as profits fall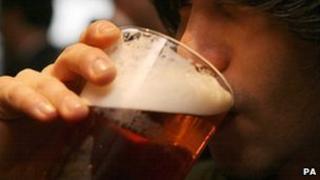 Pubs and restaurants group Mitchells & Butlers (M&B) has reported a fall in half-year profits as it continues to reposition itself towards food sales.
Pre-tax profit for the 28 weeks to 9 April was £43m, down 40% on the £73m recorded a year earlier. Revenue fell almost 9% at £946m.
This was due to the sale of hundreds of pubs and investment in pub conversions.
The owner of All Bar One and Harvester said food sales had overtaken drinks sales for the first time.
It added that rising food and energy costs, as well as uncertainty around consumer spending, represented "challenges" that would affect the business for many months to come.
Shares in M&B ended Friday down 5.2%, following the results.
'Eating out'
M&B has been expanding its food estate which it said would help it deal with these challenges.
The company spent £53m in the six months to April on opening 29 new venues and converting 31 premises to be better suited to serving food.
"Harvester's performance has been particularly good," said the company's interim chief executive Jeremy Blood.
"We have successfully positioned M&B more firmly within the eating-out market, with nearly three-quarters of our revenue now generated around eating out."
The Birmingham-based group sold 333 of its drinks-led pubs to Stonegate Pub Company for £373m in November last year as part of this strategy.
It still owns almost 1,600 restaurants and pubs.