China expands export quotas of rare earth metals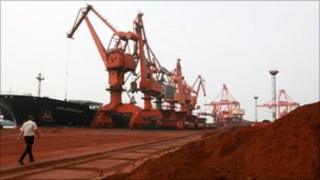 China has expanded export quotas for rare earth metals, further tightening its grip on the minerals used in a number of high-tech electronics.
From Friday, iron alloys containing more than 10% of rare earths will fall under the export quota, the commerce ministry said in a statement.
Rare earths are a collection of 17 chemical elements in the periodic table.
World manufacturers rely heavily on China for these minerals.
Rare earth metals are used in high tech goods such as mobile phone handsets, hybrid car batteries, wind turbines and weapons guidance systems .
China had already cut exports by about 35% in the first half of 2011 driving up prices to record levels. It produces around 97% of rare earth metal supply.
The Chinese government also wants to cut off what it calls illegal exports of the valuable metals.
'Crack down'
A directive issued on a government website said it will "resolutely crack down on illegal exports and smuggling of rare earths".
China will cap its total output of rare earth oxides at 93,800 tonnes this year - up 5% from 2010.
Some industry experts suggest illegal rare earth exports have amounted to up to 10,000 tonnes of supply last year, more than 10% of this year's cap.
The Chinese government says that it needs to limit rare earth exports to protect the environment and Chinese industry which is producing increasingly sophisticated products.
However the move has angered countries such as Japan which depend on the imports and have seen the cost of the goods they produce rise.
Mines in the United States and Australia have been re-opened in order to increase supply outside China, whilst Canada and Brazil are also looking to increase their production.