Testing times at the Nurburgring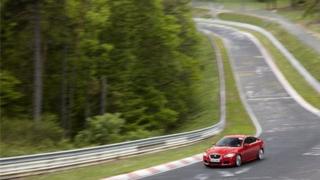 Racing through "green hell" in a supercharged Jaguar is an intense experience.
Flip the paddle twice to change down a couple of gears, a quick tap on the brakes, pick a line around the corner and accelerate through - straight into the next challenge.
At the Nurburgring there is no time to think between each section of track, and there is no room for error.
"If you are too fast here and you make a mistake, you might just make the first corner," observes Jaguar Land Rover's Frank Klaas. "But the next one comes right afterwards and you may not make that one."
The owners talk about the "most beautiful country road in the world", but racing legend Jackie Stewart saw it differently, coining the "green hell" description.
The never-ending twists and the turns, the uneven surfaces, the way the weather changes between different parts of the Nurburgring, have all added to the track's fame - or notoriety.
"Welcome to the most difficult test track in the world," grins Mr Klaas.
Open to public
In the car park next to the track, a young man in a leather racing jacket smokes a cigarette by his ageing Mercedes AMG.
Further along, a group of middle-aged Porsche drivers drink coffee from paper cups, admiring each other's cars.
The Nurburgring's 23km (14-mile) Nordschleife track is a one-way toll road that is open to the public whenever it is not closed for testing or racing.
As such, it has become legendary among petrolheads who come here to test their driving skills - and risk their lives - behind the wheels of high-performance cars.
Bumpy ride
As a former professional test driver at the Nurburgring, Mr Klaas knows the track better than most.
"The car is jumping the whole time," he says.
"Often there's surface water, causing aquaplaning. It's very hard, very bumpy, very difficult to learn."
The Nordschleife is so varied and so challenging that driving a mile here is reckoned to equate to 10 miles on public roads.
It is a superb test bed for all sorts of automotive technology, explains Mr Klaas, who has left testing behind to head up Jaguar Land Rover's global communications department.
"The German industry is here, the Italian industry is here, we are here and the global tyre industry is here," he says.
'Invaluable lessons'
The German sportscar company Porsche was among the testing pioneers at the Nurburgring, some 40 years ago.
"Testing at the ring is integral to Porsche's development," says spokesman Nick Perry.
"There's a lot we can do theoretically, in our own facilities or on public roads, but the Nurburgring has unparallelled testing facilities that offer invaluable lessons for our test drivers in terms of how the suspension, the engine and the transmission performs."
The road car division of the McLaren Formula 1, which is emerging as a rival to Porsche, has also spent time at the ring in recent weeks with its GT3 road racing car.
"The Nurburgring is very much seen as the industry standard for track durability of road cars, as well as a place to test performance cars to the limit," chief test driver Chris Goodwin tells BBC News.
Safety first
For ordinary road cars - as opposed to cars built for racing - the testing at the track emphasises durability and long-lasting safety, rather than speed.
"The first parameter is to deliver a safe car," says Jaguar Land Rover's Mr Klaas.
"When we go out here, we expect the discs not to fail, the brakes not to judder.
"And after 15,000 laps on the limit, we only expect to change the brake discs and tyres."
The ring is also useful for non-European carmakers such as South Korea's Hyundai and Kia, which use it as a confirmation programme following the modification of its vehicles to suit European tastes.
"If you're going to be competing with European brands, particularly the German brands, you'll have to know that it works there," says communications director Stephen Kitson.
"At the Nurburgring, you can do the same thing again and again, so you know what comparisions to make."
Improved efficiency
Out on the open road in a BMW 1-series M, the importance of accurate steering and reliable brakes becomes evident.
Even in the wet the car grips the road through tight turns, balanced by a responsive suspension and propelled forward by the 340 horsepower engine that is humming away under the bonnet.
Like Jaguar, BMW does much of its testing at the Nurburgring.
"There is always a need to feel things as a driver would and do the miles of on-road driving," Jos van As, BMW director of functional integration driving dynamics, tells BBC News.
"Nowhere is more demanding on a car in this regard than lapping the Nordschleife."
But BMW's testing here is not only to hone the high-speed performance of models from its motorsport-inspired M division.
Models that measure their performance in miles per gallons and in terms of reduced carbon dioxide emissions are also seeing the benefits after the professionals have pushed them to extremes on the track.
"While many of the efficient dynamics technologies [which aim to reduce emissions and fuel consumption by making BMWs more efficient]... will be developed in controlled test facilities in Munich, some elements are tested here as part of a final phase," Mr van As says.
Fuel efficiency
Carmakers, particularly in Europe, realise that to succeed in the current market they must deliver speed and luxury in fuel-efficient cars with low emissions.
German manufacturers are among the best in the world at this - thanks in part to the ready availability of the Nurburgring.
But they do not limit their efforts to the track.
Audi, for instance, has dramatically reduced the weight of its A6 luxury saloon by using an ultra-light aluminium and steel chassis - precisely the sort of thing that manufacturers test at the Nurburgring.
"Lightweight construction is the foundation of our holistic approach to improving the efficiency of our vehicles," says Michael Dick, Audi's technical development director.
Mercedes, meanwhile, has come up with a tiny four-cylinder turbo diesel engine to power its massive S-Class luxury saloon.
"The fuel efficiency of our cars is an important element to our competitiveness," says Dieter Zetsche, chief executive of Daimler.
"We wouldn't have made it if we didn't think there'd be demand for it."
British heritage
The German carmakers' ability to produce technologically advanced and impressively frugal luxury cars has for decades helped them stay ahead of their British rival, Jaguar Land Rover.
But Mr Klaas insists Jaguar is appearing large in their rear-view mirrors.
"We want to establish Jaguar as a technical brand," he says - clearly eyeing chief rivals Audi, BMW, Mercedes and Porsche.
"Our cars are usable, everyday cars that can even be driven by chauffeurs, but when pushed to perform they should be best in class.
"And with our British heritage, we have something to offer that is quite different."