UK car output falls after supply shortages from Japan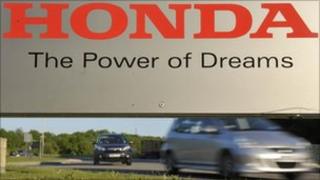 Car production in the UK fell sharply last month, hit by supply shortages following the disruption caused by Japan's earthquake and tsunami.
Production in April totalled 86,306 vehicles, down 7% from the same month last year, said the Society of Motor Manufacturers and Traders (SMMT).
The three main Japanese carmakers - Toyota, Honda and Nissan - all have factories in the UK.
Honda halved output at its Swindon plant last month due to shortages.
Despite April's weak showing, the SMMT said UK car production for the first four months of 2011 was still 7% higher than a year earlier, rising to 443,536 units.
It said this was thanks to production for exports rising 23%, while output for the domestic market fell 35%.
SMMT chief executive Paul Everitt said: "All manufacturers are working hard to overcome supply shortages and we expect any downturn to be short lived.
"The outlook for the UK motor industry is extremely good and this should generate new opportunities for vehicle manufacturers and suppliers."