Business Growth Fund for medium-sized firms launched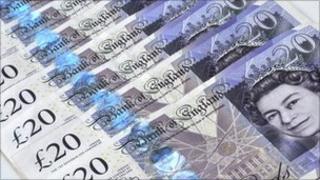 A new funding scheme for medium-sized companies has been launched by the government and the British Bankers' Association.
The £2.5bn Business Growth Fund will see banks invest between £2m and £10m in firms, in exchange for a share of the business ranging from 10% to 50%.
Participating firms must have an annual turnover between £10m and £100m.
Business Secretary Vince Cable said the fund was "a good step", but others said more help was needed for small firms.
Lending commitments
"Private equity companies who used to put equity into companies got into the business of doing very big deals - they often wouldn't get out of bed for less than £10m," Mr Cable told the BBC's Today programme.
"This [the Business Growth Fund] is meeting a real financial need, it doesn't solve all the financing problems of the economy, certainly not the SMEs [small and medium-sized enterprises], but it is a good step."
BBC business editor Robert Peston said the fund was "addressing a problem that may people have been complaining about for donkey's years".
He added that medium-sized companies in Germany had long had more access to equity funding than those in the UK.
The banks that are taking part in the fund are Barclays, HSBC, Lloyds, RBS and Standard Chartered.
The latest official figures for bank lending to small firms will be announced on Monday. As part of the Project Merlin agreement between the banking sector and the government, banks have agreed to lend £76bn to small firms.
The Federation of Small Businesses (FSB) said it was giving the Business Growth Fund a "lukewarm" welcome.
John Walker, FSB national chairman, said: "We now need to see announcements made for smaller businesses, such as the £76bn commitment through Project Merlin, come to fruition.
"Without sustainable lending to viable small businesses, growth, employment and capital investments will all suffer - as will the economy generally."
This view was echoed by the Forum of Private Business.
Alex Jackman, its senior policy adviser, said: "We must not allow the launch of the Business Growth Fund to become a smokescreen hiding the real issue.
"Our main concern remains the lack of affordable finance being provided to start-ups and other businesses which need significantly less than £2m minimum on offer, and which are not eligible for the fund."