Retail sales lifted by royal wedding and warm weather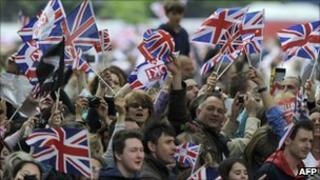 UK retail sales rose by more than expected in April, boosted by the extra public holiday for the royal wedding, and the warm weather.
Sales last month were 1.1% higher than March, said the Office for National Statistics. Demand rose most for clothing, footwear and food products.
It was the biggest rise in retail sales for April since 2002.
But economists warn the big rise in sales is likely to be a one-off, and that consumer spending remains muted.
Weaker May?
Analysts were prepared for the extra public holiday to give retail sales a boost last month, but expected them to rise by only 0.8%.
George Buckley of Deutsche Bank said: "On the face of it they are stronger numbers. It's looking a little better, but I suspect we will get some pay-back in May."
April was the warmest on record in the UK, and this appears to have lifted sales of clothing and footwear, which rose by 3.2% as people bought summer items. Food sales were up 2.2%.
Howard Archer, chief UK and European economist at IHS Global Insight, also said the April figures should be treated with caution.
"While welcome, we strongly doubt that the 1.1% jump in retail sales volumes in April is a sign that the consumer is roaring back to life," he said.
"Rather, what it suggests is that pressurised consumers need a particularly favourable set of circumstances to part with their cash."
Last week, the British Retail Consortium (BRC) also said that the warm weather and extra public holiday had boosted sales in April, which it reported had risen 5.2% on a like-for-like basis.
The BRC said champagne and garden furniture were among the items most in demand as the nation celebrated the royal wedding and enjoyed the sunshine.
The British Chambers of Commerce (BCC) said the latest official retail figures were "encouraging".
BCC chief economist David Kern added: "The strong retail sales figures for April strengthen hopes that the economy has continued to grow in the second quarter of the year."
A separate report by the CBI business organisation said that growth in British factory orders had accelerated more than expected in May.
The CBI's monthly industrial trends survey also found that the level of inflation faced by factories had eased to its lowest level since December of last year.
However, the latest figures from the UK car industry show that it has been affected by a reduction in the supply of parts caused by the earthquake and tsunami in Japan.
The Society of Motor Manufacturers and Traders said production in April was 7% lower than a year earlier.