Japan's Takeda to buy Swiss drugmaker Nycomed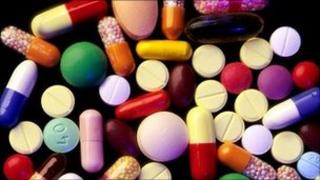 Japan's largest drugmaker Takeda Pharmaceutical has agreed to buy Swiss rival Nycomed for 9.6bn euros ($13.7bn; £8.5bn).
The acquisition will give Takeda access to Nycomed's new lung drug, which was approved for use in the US in March.
It is Takeda's second major overseas deal. The company bought US cancer specialist Millennium Pharmaceuticals for $8.8bn in 2008.
Nycomed is currently majority-owned by four private equity companies.
Nordic Capital owns 41% of Nycomed, DLJ Merchant Banking holds 25.6%, Coller International Partners has 9.7% and Avista owns 8.9%.
The lung drug roflumilast, which is known as Daxas in Europe and Daliresp in the US, is a new class of treatment for chronic pulmonary disease, a breathing disorder caused by smoking.
Yasuchika Hasegawa, chief executive of Takeda, said: "Nycomed enables Takeda to maximise the value of our portfolio and gives us an immediate strong presence in the high-growth emerging markets while doubling Takeda's European sales."