Glencore's shares flat on first conditional trading day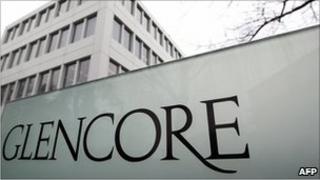 Shares in the commodities trading giant Glencore ended right where they started on the first day of conditional - or "grey" - trading in London.
They closed at the same price as they opened - 530p - although at one point they rose as much as 4% to 548p.
Full trading in the firm, whose £36.7bn share-offer value makes it one of the biggest in the UK, begins on Tuesday.
It was expected to raise about £6.8bn, making it London's largest initial public offering.
Glencore's valuation means it is expected to be fast-tracked into the FTSE 100 index at the end of its first day of full trading on 24 May - only the third time that has happened in the index's history.
Glencore is also selling shares in Hong Kong, which have been priced at 66.53 Hong Kong dollars per share.
Glencore's directors and employees still hold about 83.1% of the company, making them extremely wealthy on paper.
Chief executive Ivan Glasenberg, the largest shareholder with about 18% of the company, will be worth about £6bn, making him one of the world's richest men.
"Glencore's offer has seen substantial interest from investors around the world and was significantly oversubscribed throughout the price range providing Glencore with a high-quality, diverse and geographically spread investor base," he said in a statement to the London Stock Exchange.
Secretive
The initial offering was only for institutions, so retail investors will not get a chance to buy into Glencore until the start of full trading.
Retail investors will be scrutinising Glencore's prospectus to find out more about what has until recently been a relatively secretive company.
The prospectus gives details of the company's activities in countries such as Colombia, Democratic Republic of Congo and Equatorial Guinea, which have attracted controversy in the past.
It also describes pending litigation, including the forthcoming trial of a former employee and a current employee, charged in Belgium with having "committed corruption in exchange for information covered by professional secrecy", in a case relating to the leaking of details of European agricultural quotas.
Former BP boss Lord Browne withdrew from a decision to become Glencore's chairman at the last minute, a move which was attributed to his concerns about transparency.