LinkedIn shares double on debut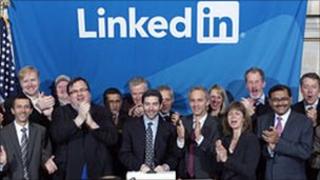 Shares in business networking website LinkedIn have more than doubled on their trading debut in New York, having been priced at $45 each.
Its share price hit $122 at one point in the sort of debut rally not seen since the dotcom bubble of the late 1990s.
The initial sale price was already at the top of an increased range.
LinkedIn sold 7.84 million shares at $45 each. At $100 a share the company is worth about $10bn.
LinkedIn is the first US social network site to get a share listing.
Some analysts believe its strong debut is down to investors' over-enthusiasm for social media stocks.
"The price we're seeing for LinkedIn shares has nothing to do with the value of the company," says Paul Kedrosky, angel investor and senior fellow at the Kaufman Foundation.
"It's just an indication of how much appetite and interest there is for social media stocks."
"LinkedIn is the only trading vehicle for this type of stock. It's the equivalent of trying to funnel thousands of people through a single door".
"Every investor I know is currently scouring around for a social media company to take public. They think it's worth selling at this stage, but not necessarily buying the stocks," he added.
There have been concerns that social networking sites are creating a new stock market bubble.
Shares in one of China's biggest social networking sites Renren rose sharply on their debut in New York earlier this month.
Renren's shares were priced at $14, and in their first day of trading peaked at $21.93 before closing at $18.01.
Facebook and Twitter are both expected to seek stock market listings in the next few years.
On Wednesday, the price range for LinkedIn's initial public offering was lifted from $32 to $35 a share to a range of $42 to $45.
Before shares in LinkedIn started trading, this new price range had valued it at about 17 times its earnings from 2010.
But at $100 a share the company is worth 25 times its 2011 revenue, assuming first-quarter sales are matched over the next three quarters.
Google, which went public in 2004, has a market value of about six times its annual revenues.
LinkedIn shares closed at $94.25 on the New York Stock Exchange.