Singapore raises growth forecast on manufacturing boost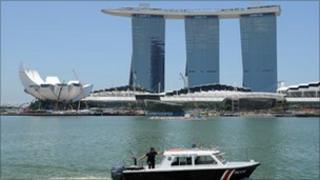 Singapore has raised its economic growth forecast after a manufacturing boost at the start of year.
Gross domestic product (GDP) grew by 8.3% in the first quarter compared to the same period a year earlier, the Trade and Industry Ministry said.
The government said it now expects growth of between 5% and 7% this year, 1 percentage point higher than its previous forecast.
Singapore was the fastest growing Asian economy in 2010.
According to the latest government figures the economy grew by an annualised rate of 22.5 in the first three months of 2011.
Singapore's continued growth was lead by manufacturing, especially in pharmaceutical production.
Manufacturing rose 13% from the previous year and 75% from the previous quarter, the ministry said.