Post Office mutualisation plans move closer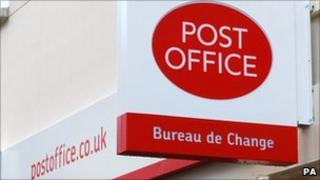 The Post Office has moved closer to mutualisation after a government-commissioned report recommended ways in which ownership could be transferred to employees and customers.
The government welcomed the Co-operatives UK's report, saying a mutual Post Office was a "realistic proposition" by 2015.
It will now hold a consultation.
But subpostmasters said the government needed to pledge new funding and give additional work to post offices.
Co-operatives UK, the trade association for co-operative enterprises, said a hybrid between employee-owned mutuals such as John Lewis and customer-owned mutuals like the Co-operative Group would work best for the Post Office.
Its key recommendations include:
The Post Office should be owned by its members
Employees and subpostmasters, as well as representatives of customers, including consumers, charities and community groups, should be allowed to become members
Government should still have a role to play, but it should not be a member or an owner
The core purpose of the Post Office - to operate in the public benefit - should be legally safeguarded.
Minister for Postal Affairs Edward Davey said: "I welcome this comprehensive report - it paints an exciting picture of what a mutualised Post Office could look like".
The Department of Business, Innovation and Skills said ministers were concerned that the Post Office was being held back by its current ownership structure.
The department did add, however, that before any changes could be made, the Post Office network would have to be "put on a more secure financial footing".
The Postal Services Bill, currently before Parliament, proposes splitting off and privatising Royal Mail, and either maintaining 100% ownership of the Post Office or transferring it to mutual ownership.
Unveiling the bill last autumn, Business Secretary Vince Cable said the Post Office was "ideally suited" to a mutual structure.
The Communication Workers Union, which represents postal workers said mutualisation, along with privatisation of Royal Mail, would do "huge damage" to the Post Office's revenue.
"Mutualisation won't solve that problem, only government investment and commitment to providing government services through post offices will help to keep post offices open," said the union's general secretary, Billy Hayes.
"There is no evidence that distancing the Post Office from government by mutualising it will help. If anything, it will make it harder for the Post Office to win government business to keep branches open."
The National Federation of Subpostmasters (NFSP) agreed securing government work was a central issue, and said that without it, mutualisation would be "a pipe dream".
"By transforming the network into the front office for government, and offering the public more opportunities to carry out both specialised and day-to-day government transactions at their local post office, ministers can help create a financially stable Post Office Ltd and safeguard the future of thousands of individual post offices," said the NFSP's leader George Thomson.