Premium Bonds are a modern draw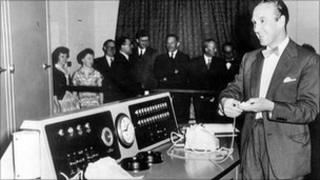 Premium Bonds may seem like an investment from the black and white era, but the vast majority of investors and prize winners are from recent times.
Figures obtained by the BBC show that more bonds have been sold in the last seven years than in the previous 48.
As a result, some 86% of winners in the January draw had bought their Premium Bonds between 2000 and 2010.
But 680,000 prizes remain unclaimed, with a total value of £39m.
History
Harold Macmillan announced the launch of Premium Bonds in the 1956 Budget, in a bid to encourage saving and reduce inflation.
Two years later, among those who put money in was one individual in Essex. Now, 53 years later, that £2 stake has just scooped a prize of £1,000 in the latest May draw.
Others do not have so long to wait for a win, according to data from National Savings and Investments - which runs the operation.
One customer, who started holding Premium Bonds in July 2003, became a millionaire by winning the jackpot the following month - the only customer to ever have had such a swift win since the £1m prize was introduced.
Draws are made each month, with prizes ranging from £25 to a single jackpot of £1m.
The draw is made by Ernie - Electronic Random Number Indicator Equipment - in a secure location only accessible by a handful of employees.
The computer has been updated as technology has advanced and, now in its fourth incarnation, takes two-and-a-half hours to make the random monthly draw.
Safety
The £1m Premium Bonds jackpot was introduced in 1994.
From April of that year to April 2011, men have been more successful than women, with 140 male jackpot winners compared with 110 female winners.
Those aged in their late 50s and early 60s were most likely to celebrate, although the date of birth of the majority of winners is unknown. Of the remainder, there have been at least 10 £1m jackpot winners aged 65 to 69, with nine £1m winners aged 60 to 64, and another nine aged 55 to 59.
The South East of England also dominated the success league with the highest number of winners in outer London (24) followed by Surrey (14), Kent (10) and Lancashire (10).
During the financial crisis, there was a "flight to safety" which raised the popularity of NS&I products owing to its government guarantee that funds were safe.
However, in March 2009, one of the two £1m jackpot prizes was cancelled as interest rates fell to record lows.
With the chances of the jackpot having fallen, most investors will always be disappointed. They must be content with a regular interest rate, and that is not as generous as some savings products, according to Adrian Lowcock, senior investment adviser at Bestinvest.
"Because it is a prize draw there is the possibility of winning £1m each month, tax free, or more likely nothing at all," he said.
"As such the bonds do offer an interest rate based on the annual prize fund - this rate is 1.5%. Not high, but better than some cash accounts.
"For investors who have a spare bit of cash that they do not need to earn anything on - and are happy with the potential to get some winnings in any given month, Premium Bonds can add to a portfolio and possibly help more than they expect."