Civil servants vote for strike ballot over cuts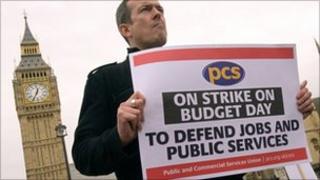 Members of the Public and Commercial Services union (PCS) have agreed to ballot for a national strike over government cuts to the public sector.
The decision was taken by delegates at the union's annual conference in Brighton.
The PCS ballot will cover 250,000 civil servants and any action could coincide with that of several teachers' unions.
The government said it was disappointed by the union's decision, calling its proposed changes "necessary".
The minister for the Cabinet Office, Francis Maude, said: "We have been doing everything we can to protect public service jobs and front line services by cutting government's overhead costs.
"Doing nothing, as the PCS leadership advocates, is unfortunately not an option.
"The reality is that action on pay and pensions is what will protect jobs in the public sector," he added.
'Despair and decay'
The PCS general secretary, Mark Serwotka, argued that 110,000 civil servants' jobs were likely to be cut in the next few years, as well as the remaining employees facing pay freezes and cuts to their pension entitlements.
"We're facing hundreds of thousands of job cuts, we're facing communities that will see despair and decay in their public services," he told the BBC.
"We're seeing cuts in people's income of 5% and now we're seeing the biggest raid on pensions in the history of this government as people are told to work longer, pay more and get an awful lot less".
Voting in the PCS ballot will begin next week and the result will be announced in the middle of June.
The decision raises the prospect of 750,000 employees taking part in strikes.
The teachers' unions are already in dispute over the government's plans to cut the value of their pension schemes.
The Association of Teachers and Lecturers (ATL), the National Union of Teachers (NUT) and the National Association of Head Teachers (NAHT) - have already decide to ballot their members.
The ballots of both the NUT and ATL start next week.