Arms firms eye Paris air show order bonanza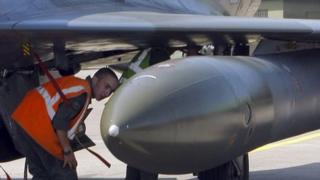 On the face of it, the Paris air show - to be held later this month - is all about the civil aviation and space industries.
But the biennial exhibit is at least as much about billions of dollars of military spending.
A broad range of companies, ranging from small component makers to giant defence and security firms such as Lockheed Martin, BAE Systems, Finmeccanica and Northrop Grumman, will fill the 130,000 square metres (1.4m sq ft) of exhibition space in the chalets and halls on the edge of Le Bourget airport's runway.
With more than 200 official delegations from 88 countries, many in the arms industry are expecting their order books to be dramatically boosted this year, industry officials and military officers have told BBC News.
Military conflict obviously bolsters arms sales, because it uses up weapons and ammunition, and there has been plenty of it in recent months.
In particular, several countries that are normally not actively involved in armed conflicts are now in a position where they will need to restock bombs, ammunition and weapons following months of action in Libya and conflict elsewhere in the region, an executive at an international arms company told BBC News.
Orders from these countries could top several hundred millions - and perhaps even billions - of dollars, industry officials predict.
At the same time, many procurement officers have been impressed by the accuracy of some of the weapons used in Libya, an officer involved in bombing missions told BBC News.
These include laser-guided bombs designed to hit and destroy armoured vehicles without causing much collateral damage, he said, predicting demand for such hi-tech weaponry to be strong at this year's show.
Tense region
Many of the new orders are expected to come from countries outside the Middle East that have been involved in missions there.
But demand for weapons from the Middle East and North Africa is also expected to remain strong in the wake of the Arab Spring.
"Interstate and internal tensions provide drivers for demand," according to Stockholm International Peace Research Institute (Sipri).
Wealth in the region, resulting from strong economic growth on the back of soaring global oil prices, has bolstered arms sales to the Middle East in recent years.
In 2010, the region spent $111bn (£68bn) on military expenditure, a 2.5% rise on 2009, with the bulk of the purchases made by Saudi Arabia.
By comparison, global military spending rose just 1.3% in real terms last year, the slowest growth rate seen in about a decade - though the total spent remains eye-watering at more than £1.6 trillion.
Big importers
But although much of the focus will be on the Middle East this year, the industry's biggest growth markets are actually in relatively peaceful parts of the world.
In 2010, "the region with the largest increase in military spending was South America", according to Sipri.
"This continuing increase in South America is surprising given the lack of real military threats to most states and the existence of more pressing social needs," observes Carina Solmirano, a Sipri Latin America expert.
In Asia, an arms race rather than outright war is driving weapons sales, with rivalries and border tension between Pakistan, India and China. India was the world's largest arms importer in 2010.
Big spenders
The US remains by far the biggest military spender, however, and although spending slowed last year it grew at more than twice the rate of the global average.
The US accounted for 43% of the world's military spending last year, up 2.8% on 2009 and a whopping 81% higher than it was in 2001.
Europe also remains a big spender, though overall military spending here fell 2.8% last year when compared with 2010.
Politically, it is becoming increasingly hard for European governments to spend vast sums on military action abroad at a time when ballooning budget deficits are forcing all sorts of spending cuts at home.
This year's Paris Air Show will take place at Le Bourget exhibition centre on the outskirts of Paris from 20 to 26 June 2011