Mothercare to close a quarter of UK stores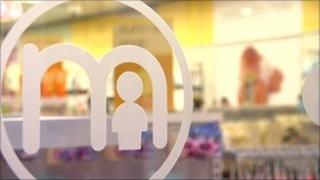 Mothercare has said it will close more than a quarter of its UK stores over the next two years as part of its plans to reduce its High Street presence.
The company also reported a slump in full-year profits as UK sales fell due to bad weather in the run-up to Christmas and increased competition.
This meant the group had to cut margins to shift unsold stock.
Pre-tax profits for the year to 26 March were £8.8m, down from £32.5m a year ago.
By March 2013, the company said it planned to have reduced its total store numbers to about 266 from 373.
The closures form part the group's continuing strategy of reducing its High Street store portfolio and focusing more on out-of-town stores, and on its online and wholesale businesses.
"The problem for Mothercare is that two-thirds of its sales come from the UK and some of its High Street stores look tired," said Rahul Sharma analyst at Neev Capital.
"Focusing on out-of-town stores where it can display more products to try to differentiate itself from supermarkets is a better strategy.
"People aren't shopping on the High Street like they used to. Supermarkets are producing reasonable quality kids clothing at cheap prices, and ultimately they're convenient," he added.
Mothercare said it was "in the fortunate position" of having 120 leases expiring in the next two years.
The company said it should benefit to the tune of £4m to £5m a year after tax from the store closures.
International growth
Like-for-like UK sales in the year to the end of March fell by 4% due to "adverse weather conditions in key trading weeks before Christmas, together with a general weakening in the consumer environment and increased competition", the company said.
This led to clearance sales of autumn and winter stock, in particular toys, which hit profit margins.
As a direct result, Mothercare said underlying profit in the UK for the period was £11.1m compared with £36.1m a year earlier.
However, against this disappointing UK performance, the company said it had seen a "record year internationally", with total sales up 16.3%.
This helped to drive a small increase in revenue to £793.6m.
"In the new financial year, we expect international to continue to grow retail sales by 15% to 20% with 150 new store openings," said chief executive Ben Gordon.
Earlier this year, the company warned that full-year profits would be significantly lower than market expectations.