US factory output falls for the first time in 10 months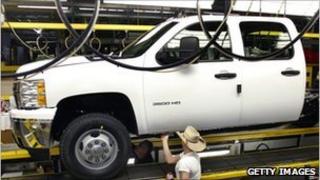 US factories produced fewer goods for the first time in 10 months, driven mainly by a slump in vehicle production as a result of a shortage in parts from Japan.
Manufacturing in April fell 0.4% from the previous month, according to data released by the Federal Reserve.
The number of vehicles manufactured declined from an annual rate of nine million units in March to 7.9 million.
If car plant output is excluded from the data, factory output rose 0.2%.
Total industrial production is 5% up on a year ago, boosted by the mining and utility industries which performed well.
The sectors saw productivity rates rise 0.8% and 1.7% respectively during April.
However, statistics showed that consumer goods production fell 0.7% because of a fall in the output of durable goods, which include cars, appliances, furniture and carpeting.
The trend for fewer domestic goods only added to evidence of a decline in the US housing market.
Housing slump
Newly released data by the Commerce Department showed that the number of new homes built in April plummeted 10.6% on the previous month.
The seasonally adjusted rate fell to 523,000 homes per year, which is nearly 25% down a year ago.
"We're still struggling to find the bottom here for the housing market," said Michael Woolfolk, a senior currency strategist at BNY Mellon in New York.
"It does not bode well for construction in the near term, and there's a good deal of overhang in terms of inventory."
The disappointing construction data contributed to a sell-off on Wall Street.
The Dow Jones index was down more than 130 points during midday trading.