Wal-Mart's profits rise despite falling US sales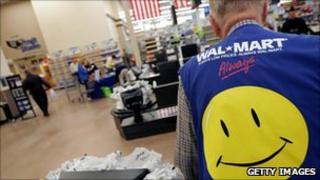 Wal-Mart has reported a rise in three-month profits despite an eighth consecutive quarterly fall in US sales.
The world's biggest retailer reported net profit of $3.4bn (£2.1bn) for the three months to the end of April, up 3% from the same period last year.
International sales rose 11.5% but same-store sales in the US fell 1.1%.
Like-for-like sales at Asda in the UK rose 0.1% in the first three months of the year, although it rose 1.7% when adjusted for the timing of Easter.
Wal-Mart chief executive Mike Duke said the report "reflects the stability and strength of our global operations".
"International remains the key growth driver for our company. Mexico, China and Chile had the highest percentage sales increases for the first quarter compared to last year."
Cautious
Wal-Mart took a $67m charge for the closure of Asda's defined benefit pension scheme during the period.
Asda completed the acquisition of 147 Netto stores in April, after the end of the reported quarter.
Wal-Mart was cautious in its predictions for the next three months amid fears that rising prices for petrol and food could put more pressure on its customers.
The retailer has been losing out to discount and online competitors.
Although the average spend at its US stores increased, a smaller number of shoppers came into them.