Vodafone profits up 10% on smartphone growth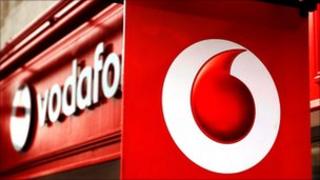 Vodafone has reported a sharp rise in full-year profits, thanks in part to the increasing popularity of smartphones.
Pre-tax profits for the 12 months to the end of March were £9.5bn, up almost 10% on the £8.7bn recorded a year ago.
Revenue rose 3.2% to £45.9bn, slightly higher than analysts had forecast.
The company said it was entering the new financial year in a "strong position" despite "challenging macroeconomic conditions".
"Customers have adopted data services in increasing numbers, as smartphones proliferate and the tablet market begins to take off," said chief executive Vittorio Colao.
He added that emerging market performance had been strong, while some European markets had seen signs of renewed growth.
Revenues from selling data to customers, which allows users to browse the internet and check emails on their phones, rose by 26%.
Revenues from emerging market customers rose by 12%.
The company, which has its headquarters in Newbury, gave an upbeat outlook for the coming year, but warned that markets in southern Europe remained "challenging".
Bric strategy
Last month, Vodafone agreed to sell its 44% stake in the French mobile phone operator SFR to Vivendi for 7.95bn euros (£6.9bn; $11.3bn).
The group has been slimming down its portfolio, and recently sold stakes in Chinese and Japanese mobile operators.
Independent media and telecoms analyst Theresa Wise said Vodafone had a sensible approach to doing business in the Bric countries - Brazil, Russia, India and China.
"A lot of the international companies have gone hell for leather to go into the so-called Bric countries," she told the BBC.
"Sensibly, Vodafone has actually pulled out of China because sometimes China's very difficult to do business in. But India is doing well for them."
She added: "Growth in the more mature markets they're in in western Europe is challenging."