Macau aims to control darker sides of gambling's growth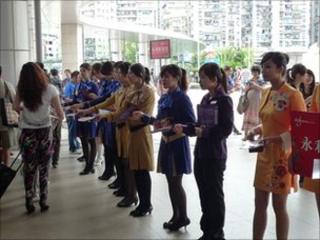 Every day people pour over the Chinese border in their tens of thousands to be greeted by pretty girls handing out fan-shaped flyers, discount coupons and free rides to the city's 34 casinos.
The high rollers arrive by private jet or helicopter and are chauffeured straight to their private VIP gambling rooms, where bets can be as much as $250,000 (£155,000) a hand.
Others seek out the pole-dancing shows or go shopping in the luxury malls. But mostly they stick to the tables, where baccarat is the game of choice.
Welcome to Macau - the world's gambling capital.
The only place in China where casinos are legal, it is a kitsch-filled neon-lit monument to the country's new-found prosperity and the Chinese appetite for gambling
Gaming revenues in this former Portuguese territory surpassed Las Vegas in 2007 and are expected to be almost five times bigger in 2011.
"The growth of Macau has astonished everyone," says Robert Drake, a Las Vegas veteran, who is now the chief financial officer of Galaxy Entertainment.
Galaxy runs six casinos in Macau, including the $1.9bn Galaxy Macau that opened last month.
Fast and furious
There are fears Macau's growth has been too fast and furious, and the territory is now making efforts to slow the industry's expansion and diversify its appeal.
China's leaders in Beijing are concerned corrupt officials are squandering public money in the casinos.
And in Macau people are concerned about the rising incidence of human trafficking, drug use and the impact on a younger generation that work and gamble in the casinos.
Less than a decade ago, Macau had just one casino operator - billionaire Stanley Ho.
Macau's economy has boomed since his monopoly came to an end in 2002, opening up the market to big Las Vegas names like Wynn, MGM and Sands.
It has been a windfall for Macau's government that takes 40% of operators' gambling revenue.
But the government now thinks growth has become lop-sided.
Last year, it announced it would withhold approval of new projects and cap the number of gambling tables at 5,500 until 2013.
"We are not saying we want to put a freeze on gambling but casinos will have to become smaller," says Manuel Joaquim das Neves, the head of Macau's Gaming Inspection and Co-ordination Bureau.
"Casinos of 1,000 tables will be no more."
High-rollers
The government also wants to reduce the casino industry's reliance on the high-spending gamblers visiting from mainland China who account for more than two-thirds of casino revenues.
A 2010 study by Macau Polytechnic Institute suggests that 47% of these Chinese high-rollers are either government officials or senior managers in state-run companies.
"Beijing is concerned about the mainland officials that use the public money to gamble in Macau," says Ricardo Siu, a specialist in the casino industry at the University of Macau.
In one high-profile case, Li Weimin, a mayor of small town in Guangdong, lost $12m and was sentenced to 20 years in prison.
What's more, many high-rollers travel on junkets run by companies that lend them money to gamble and then collect debts once they return.
It is a system that circumvents China's strict controls on the flow of money but the sometimes shady junket companies are thought to be connected to Macau's triad underworld.
Social fabric
Macau is also worried about the impact the casinos are having on young people.
Under a draft law expected to come into force this year, the minimum age for working and entering a casino will be raised to 21 from 18.
The law aims to encourage them to go into higher education and to avoid exposing youngsters to the casinos at an age when problem gambling is more likely to develop.
Ricardo Siu at the University of Macau, says he has detected a change in attitude among his students, who on graduation get management jobs handed to them on a plate.
"They know they will get a job in a casino and have a pretty good life," he says.
"There's less drive to compete and no spirit of entrepreneurship."
Macau's residents are also concerned about cases of drug abuse and drug-related crime, which both rose last year, and the trafficking of women into prostitution.
A 2010 report by the US government says that women from mainland China, Mongolia, Russia and South East Asia fall prey to false adverts for casino jobs.
"Foreign and mainland Chinese women are sometimes passed to local organised crime groups on arrival, held captive and forced into sexual servitude," it says.
New casino
The executives behind Macau's newest casino, the Galaxy Macau, are happy to follow the government's strategy to move away from city's entrenched gambling culture.
With 2,200 hotel rooms, 50 restaurants and a roof-top wave pool with artificial beach, they are banking that punters will be as keen to dine, shop and relax as to try their luck on the casino floor.
"From the outset we wanted to be a resort," says Francis Lui, Galaxy Entertainment's vice chairman. We believe we could do a lot of things not done in Macau before."
A whiskey bar modelled on a Scottish castle and a Banyan Tree spa are other draws.
Mr Lui wants to make Macau a weekend destination for Asians - not a day trip for hard-core gamblers from China and Hong Kong, who currently make up 80% of the 25 million visitors each year.
The white-and-gold building rises from a strip of smog-cloaked reclaimed land, and is designed to resemble an Asian palace. In the lobby, a massive fountain turns into a roulette wheel during a light show.
It has some of the glitz and glamour lacking at the places popular with day-trippers from China, such as Grand Lisboa where people drink jasmine tea out of plastic beakers and smoke endless cigarettes.
The Galaxy Macau also hopes to retain a distinctly Asian feel that has been lacking at some of the resorts built by the big Las Vegas firms operating in Macau such as The Venetian, which has a shopping arcade modelled on Venice.
However, as you watch the intensity of the gamblers playing baccarat on a Friday afternoon, it's hard to imagine that sales of spa treatments, slap-up meals and luxury hotel stays will even begin to approach the revenue from the gaming tables.