Alliance Boots sees rapid overseas wholesale growth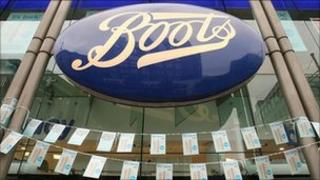 UK pharmacist Alliance Boots has seen double-digit sales growth for the year, driven by its international business.
Its pharmaceuticals wholesale division - which operates mainly in Europe - saw local currency revenues rise 26%.
The results helped the firm achieve overall revenue growth of 15%, despite like-for-like sales at its UK High Street outlets rising only 1.2%.
The privately-owned company made £637m profits before tax for the year to March 2011, up from £460m a year ago.
The firm is facing "tough competition from supermarkets in core areas such as cosmetics", according to Tim Danaher, editor of Retail Week.
The Nottingham-based firm was formed out of the merger of Boots and Alliance Unichem in 2006 and was bought up by private equity group Kohlberg Kravis Roberts for £11bn in 2007.
The company took on a lot of debt, but has been having no problems generating enough cash to pay these down, while also financing further acquisitions, Mr Danaher told BBC news.
Under former chief executive Andy Hornby - who was previously in charge of HBOS bank when it was rescued by Lloyds Banking Group - the firm pursued an aggressive international expansion.
In the last financial year, it bought a controlling stake in Hadef Alliance, which operates in Turkey and Egypt, as well as in Germany's ANZAG.
Mr Hornby resigned unexpectedly in March, to take a break from business, after two years at the helm.
However, Boots has a "very hands-on" chairman, according to Mr Danaher, and the chief executive is not expected to be replaced any time soon.
"In recent years, we have made substantial capital investments, particularly in our Boots stores and supporting infrastructure," said executive chairman Stefano Pessina, commenting on the results.
"As a result, we have a strong platform for continuing growth in our core businesses and on which to build our next phase of growth, focused on international expansion."
The firm has more than 3,000 stores worldwide and employs more than 115,000 people, including about 70,000 in the UK.