Yahoo spat with Alibaba over Alipay hive-off worsens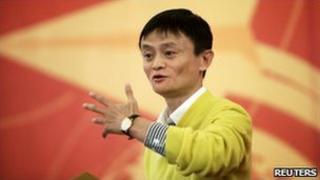 Yahoo's squabble with its Chinese partner Alibaba over the latter's transfer of a major internet asset to its chief executive has deepened.
Shares in Yahoo fell for the third day running after news that Alibaba had spun its online payment business Alipay out of the reach of the internet giant.
Yahoo said the switch had been made in August 2010, but it only found out about it in March this year.
But Alibaba said the Alipay transaction was discussed at a 2009 board meeting.
In a statement issued on Friday, the Chinese company said Yahoo would have been aware of the deal as it had a seat on the Alibaba board.
Yahoo shares ended down 3.6% on Friday.
Alibaba Group is one of the world's biggest internet conglomerates.
Yahoo had controlled Alipay indirectly through its 43% stake in privately-owned Alibaba, which was founded by entrepreneur Jack Ma.
Investors believe the move by Mr Ma may spell trouble for Yahoo in the future.
The Alipay transaction raises fears among Yahoo's investors that Mr Ma could spin off another valuable asset, Taobao, putting it effectively out of Yahoo's reach.
Taobao is China's biggest online shopping site.
Yahoo invested $1bn (£0.6bn) in Alibaba in 2005.