Eurozone economic growth data prompts political clash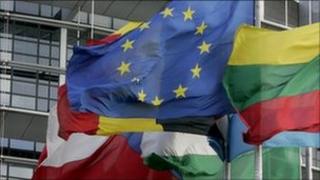 The government and Labour have clashed over data showing that the eurozone is growing faster than the UK economy.
The 17-nation eurozone bloc grew 0.8% in the first three months of 2011, with Germany expanding 1.5% and France 1%.
Labour's shadow chancellor Ed Balls seized on the figures as proof that the UK was now in the economic "slow lane" with growth of 0.5% in the same period.
But a spokesman for the Prime Minister said it was "good news" that Britain's big export partners were growing.
The strength of the economic data for the 17 countries that use the euro surprised some economists and included a strong 0.8% growth rate from debt-laden Greece, although this came after a very deep contraction.
Mr Balls said: "These figures expose how, since George Osborne's spending review and VAT rise, Britain's economy has gone from the economic fast lane to the slow lane.
"As our economy has flatlined with zero growth over the last six months countries like France, Belgium, the Netherlands and even Spain have overtaken us while Germany is powering ahead."
He said that, like the UK, all these major economies were hit by the global financial crisis and must reduce their deficits.
"But while they are now growing strongly, our recovery has been choked off," Mr Balls said.
'Banking bust'
But the Prime Minister's spokesman said the UK had the largest deficit in the EU with unprecedented public and personal debt, and a banking crisis.
He said: "We have a lot of work to do to rebalance our economy and get it going again, we should welcome the growth in France and Germany."
France and Germany had broader economic bases and were less reliant on a single sector of the economy, he said.
The government also pointed out that the US had grown by 0.4% at the beginning of the year - slower than the UK.
A Treasury spokesman added: "The government is having to deal with a deficit four times bigger than Germany's. Our banking bust was matched only by [the Republic of] Ireland. Our housing bust second only to Spain's.
"But despite this, UK homeowners and small businesses are benefiting from the same low interest rates as in Germany and France."