Malaysia's Petronas to invest $20bn in energy complex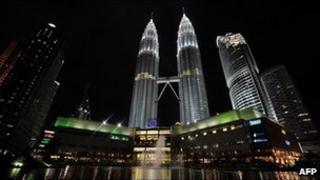 Malaysian oil and gas company Petronas plans to a build a $20bn (£12.3bn) factory complex to produce chemicals and refine crude oil.
The facility will be located in the southern state of Johor, bordering Singapore.
Petronas says the strategic location is close to deepwater ports, international shipping lanes and areas of high energy demand.
The project is expected to be commissioned by the end of 2016.
According to state-run Petronas, the facility will house a crude oil refinery, a naphtha cracker and a complex that produces petrochemicals and polymers.
The refinery will have a processing capacity of 300,000 barrels per day for the production of petroleum products such as gasoline, jet fuel, diesel and fuel oil.
At the project launch, Prime Minister Najib Razak said the $20bn commitment signified "Petronas's ambitions to capture the opportunities Asia's dynamic energy and chemical markets are expected to provide".