Hong Kong's 'sandwich class' face housing woes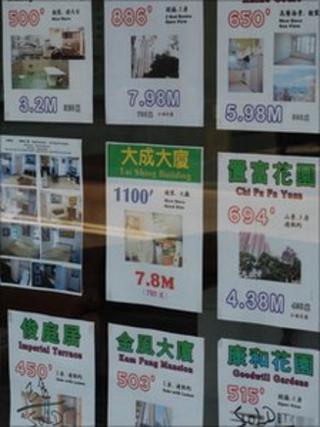 They call them Hong Kong's "sandwich class", stuck between the very rich and the very poor.
Since Britain handed the territory back to China in 1997, more and more Hong Kong Chinese have seen their incomes improve as the economy has grown on the back of breakneck economic growth in mainland China.
Economists now describe Hong Kong as a "world city" on a par with London and New York.
It has always been an expensive place to live but rocketing property prices in recent months have left many in the sandwich class feeling more squeezed than ever.
Mid-Levels is the dormitory district on Hong Kong island - it's where the office workers live.
But you don't find much peace here at the moment.
All over the place new high-rise apartment blocks are under construction. They can't build them fast enough.
'Faster and Faster'
Hong Kong now has the most expensive property per square foot anywhere in the world, according to the real estate firm Savills.
Property prices are at a 13-year high. Even the bottom end of the market is 40% more expensive than it would be in London or New York.
It's frustrating for Jimmy Chue, a young professional who says people like him are being priced out of the market.
"In Hong Kong island in Kowloon I think the market is not logical right now and there's a lot of speculation going on," he complains.
"There's a lot of money coming in from outside of Hong Kong which perhaps explains why the property prices are increasing more than people's incomes."
To a certain extent he's correct.
Experts estimate around 30% of the properties at the top end of the market are being bought by mainland Chinese.
But also interest rates are very low here and clearly there are speculators at work too.
Some flats that are sold go straight back on to the market with a 20% mark-up, despite recent efforts by the Hong Kong government to curb that speculation.
"People who have been living in a very low interest rate environment for too long, they don't realise you know how much risk there is," says Nicole Wong, a property analyst for CLSA Asia Pacific Markets.
"It's like drunken drivers on the road. They just keep driving faster and faster without really noticing it."
Some analysts warn that people desperate to get on to the housing ladder are overstretching themselves. House prices here rose 24% last year and 30% the year before that.
Nicole Wong doesn't believe there'll be another crash but "economically when prices are at such a high level there's always the risk that there's going to be quite a sharp correction", she says.
To a certain extent Hong Kong has become the victim of China's success.
Distorted markets
Property agent Angel Law is showing prospective buyers around a four-bedroom house that's on the market for around $36m (£22m).
It's not even that big but this is what buyers from the mainland are prepared to pay.
"It's all about the location," Ms Law says, "just 10 minutes from Central, but it has an amazing sea view."
For many potential buyers this kind of purchase is just an investment, they never have any intention to live here.
But Hong Kong's a small place. There isn't a lot of housing stock to spare.
Yolanda Barnes, the head of residential research for Savills, says much of the property here is now treated like a commodity rather than a place to live.
"This is in common with other global cities where real estate is used as a store of wealth," she explains.
"What global cities have in common is that there are very often additional sources of wealth coming from overseas, which means the city's markets become distorted and separated from the local economy."
For young professionals like Jimmy Chue, that means the only option may be to move out of the city further away into the suburbs if he wants to buy.
He says the situation's unfair for the people who keep this city going.
"They should be able to buy a flat if they're making average income. It shouldn't be a long commute to their office - it's very frustrating," he says.
But it's a complaint many young workers in London, New York or even other big cities across China would be familiar with.
As China's economy develops, its young people have opportunities their parents could never have dreamed of.
But they're also now facing the kind of problems we in the West know can come with that success. And they don't like it any better than we do.