Sir Richard Lambert resigns from Bank policy role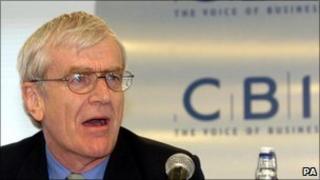 Former boss of business body the CBI, Sir Richard Lambert, has resigned from the new Financial Policy Committee of the Bank of England.
He has quit before the new committee has even had its first meeting.
The reason, he told BBC Business Editor Robert Peston, is that he belatedly discovered it would be constraining on his ability to do other things.
The Treasury will now look for his replacement, which will hold its first full meeting in June.
The new committee, which will meet four times a year, was set up as a response to the failings of regulation which contributed to the financial crisis in 2008.
Mr Lambert is also a former member of the Bank's rate-setting Monetary Policy Committee, and was director general of the CBI from 2006 to 2011.