HMRC in tax crackdown on restaurant owners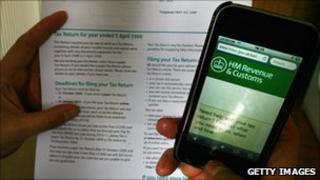 Tax inspectors are to investigate restaurants in London and other parts of the UK to hunt down tax dodgers in the food trade.
HM Revenue & Customs (HMRC) is setting up a series of special units to track down tax evaders.
The restaurant team will start in the capital before moving onto food outlets in Scotland and the North West.
The move follows a similar recent campaign to persuade plumbers to come clean about their tax affairs.
Mike Eland of HMRC said the drive was part of the government's plan to raise more tax by cutting down on tax evasion.
"These task forces are a new approach which uses HMRC's resources to identify and tackle rule-breakers and evaders swiftly and effectively," he said.
"Only those who choose to break the rules, or deliberately evade the tax they should be paying, will be targeted."
Troncmaster
Restaurant owners have long been of interest to tax inspectors and are regarded as a high-risk for tax evasion.
Ronnie Ludwig, of accountancy firm Saffery Champness, warned that the Revenue would be interested in the earnings of staff, not just the owners.
"A restaurant must have a dedicated troncmaster, who is responsible for sharing out tips amongst the restaurant staff, waiters, maître d's and cooking staff," he said.
"A second part of the role involves administering PAYE on the total amount of tips - deemed to constitute taxable supplementary remuneration.
"However, individual waiters often handle their cash tips personally - in which case they would have to declare the amount received in tips over the course of the tax year as supplementary earnings on their tax return," he explained.
Care needed
HMRC says it will set up nine other similar task forces during the current tax year, with more to come next year.
Gary Ashford, of the Chartered Institute of Taxation welcomed the announcement.
"HMRC have a range of sources of evidence available to them and we assume that they have been doing their homework so they can target their anti-evasion efforts," he said.
"Careful targeting is needed as the one fear with this initiative is that those who make genuine mistakes over their tax affairs might be caught up in this drive."