Bob Marley: Reaping the dividends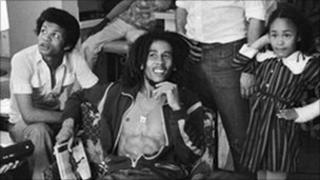 Previously unseen photographs containing "all sorts of treasures" are being published to coincide with the 30th anniversary of Bob Marley's death.
He remains the most widely known and revered performer of reggae and is credited with helping bring both Jamaican music and the Rastafarian movement to a worldwide audience.
Photographer Kim Gottlieb-Walker was closely associated with him in the 1970s and is now publishing a book featuring previously unseen images of the singer.
They portray Bob Marley much more relaxed than the public persona he showed on stage - sitting at home with friends, cruising in a Cadillac down a Hollywood boulevard and smoking weed (marijuana).
In the shadows
He famously sang No Woman No Cry and reminisced about eating porridge in Jamaica's Government Yard slums.
As two years of her life flew by in the late 1970s, Ms Gottlieb-Walker spent time with Bob Marley, snapping him from a distance and documenting his every move.
Thirty years later she is in London, taking her goddaughter to the ballet at the Royal Opera House. But she's also here to promote a gallery show and a book.
She is very unassuming, hauling her portfolio across the city in oversized airline-style hand luggage.
You would pass her by in the street not knowing who she is.
But she was a "babe" - according to Jimi Hendrix, the renowned American guitarist and singer-songwriter, whom she also photographed.
Hidden treasures
She has brought some previously unseen photographs to London.
They have been sitting in a cupboard for over three decades.
Some clearly have the potential to be iconic - a bare-chested Marley dressed only in jeans with a certain melancholy written across his face; an open-top Cadillac speeding down a Hollywood boulevard with Marley's trademark dreadlocks flying in the wind; and the singer relaxing by reading a paper.
So why has she kept such powerful pictures out of the public domain for so long?
"This is the first chance I've had time to go back and look through the archives," she says.
She had not looked at many of the pictures for 35 years.
"I never printed them. I went back and started looking at the proof sheets and scanning negatives," she says, adding that she discovered "all kinds of treasures that I didn't even realise I had".
Marketing the image
She could have made a fortune by selling such rare photographs.
Some of the Marley family, including his many children, have already cashed in by producing items such as iced tea and fruit juice with their father's name and image on them.
There are said to be plans to license all sorts of products, even verging on the extreme: luggage, stationary and video games.
But is this taking "Brand Marley" too far? Have they been fleeced by the marketeers?
Ms Gottlieb-Walker does not think so.
"I think the family is doing fine and most of his kids are either musicians or very enterprising," she notes.
"For instance, his son Rohan is in charge of Marley Coffee where they get fair trade, sustainable-growth, environmentally-sound coffee beans that come from Ethiopia.
"They make sure that the products that they are producing are sustainably raised, that they are environmentally friendly, that they are healthy. I mean it's still done in Bob's spirit even though it's helping to support the family."
Justifiable cost
She defends a price tag of £500 ($820) for a copy of a photograph which will also be published in a book.
"That is for very large silver gelatin art prints. I also try to make posters that are available and more affordable. At this point I'm hoping I'll sell enough that can pay for my trip here to London," she says.
And she is adamant her limited edition photographs will remain one-offs.
"Limited edition means there will only be that many of that particular picture in that particular form and size."
Witnessing history
Did she ever imagine that both Jimi Hendrix and Bob Marley would die so young?
"Bob, in particular, left us far too soon," she says.
"He had so much to say, but his legacy just resonates around the world."
She adds: "There are so many people all over the world for whom he is a voice."
One photograph which particularly resonates is that of Bob Marley and his band, the Wailers, in a Cadillac convertible. Was that a staged picture or was it just off the cuff?
Ms Gottlieb-Walker remarks that her photographs are rarely staged.
"He was on his way to tape a television show. It was a summer variety show called Manhattan Transfer and we had just finished with a bunch of press interviews, and so all the Wailers and his manager, Don Taylor, piled into the Cadillac and took off for the studio," she says.
'Huge grin'
"As they left, I waved to them and wished them good luck and they turned around and gave me a big grin, and so I snapped the picture."
She says it was good luck. "I am a journalistic shooter, I shoot what's there."
Only a couple of photographs in the show and in the book were staged and one of them was in Bob Marley's home.
There are photographs of him with the colours of the Ethiopian flag behind him, which were just cards pasted to the wall of his house in Jamaica.
"They were just coloured cardboards I had pasted to the wall of his house in Jamaica and I asked him to stand in front of them.
"The only other time he actually posed for me was in Los Angeles where we shot the cover of High Times magazine in the motel where he was staying with a whole lot of herb on the table in front of him," she says.
"He was so happy to pose for that. He's got a huge grin on his face. You can tell he is really happy."