Cisco warns sales will fall short of expectations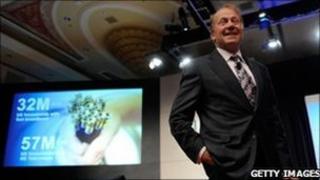 Cisco Systems has warned investors that sales in the current quarter will fall below expectations.
Cisco is also preparing to make global job cuts, mainly through an early retirement programme.
The company did not say how many jobs will go but the reduction is expected to save some $1bn (£610m) a year.
Chief executive John Chambers said sales in the April-to-June quarter would be flat to 2% higher, compared with the same period a year earlier.
That forecast fell short of market expectations, as analysts had been looking for a 7% increase.
Shares in the company, currently in the midst of restructuring, fell 3% on the news.
In recent years, Cisco, the world's largest maker of computer networking gear, has sought to diversify and move into the consumer market, but analysts have criticised the group for trying to do too much.
Job losses
Mr Chambers admitted in April that the firm had lost its way and vowed to take "bold steps" to refocus.
"We are making key, targeted moves as we align operations in support of our network-centric platform strategy," he said last month.
Mr Chambers told investors in a conference call on Wednesday that the company would be reducing its headcount.
He did not disclose how many jobs would go, though he did say the employees affected would be notified by the end of September.
In the last few months, Cisco has restructured its management, offered early retirement to employees and laid off 550 workers when it decided to close its Flip video camera unit.
Some analysts say Cisco is restructuring its consumer business so that it can sell the division.
For the three months to the end of April, Cisco said net profit fell nearly 18% on the same period last year to $1.8bn.
Sales in the quarter rose 5% to $10.9bn, matching analysts' expectations.