Tesco appoints Sir Richard Broadbent as new chairman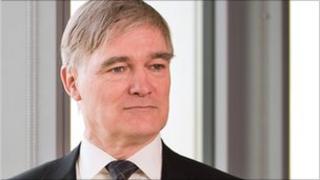 Tesco has ended months of speculation over appointing a new chairman with news that Sir Richard Broadbent will take over in November.
He is currently deputy chairman at Barclays, and will replace David Reid, Tesco's chairman since 2004.
Sir Richard, 58, a former Treasury official and executive at Schroders, had been tipped to become chairman at Aviva, the insurer.
"I look forward to working with a great team," he said in a statement.
The chairmanship of Tesco, Britain's largest retailer, is regarded as one of the biggest corporate roles in the UK.
The appointment marks another change at the top of the retailer after its long-standing chief executive Sir Terry Leahy retired earlier this year, to be replaced by Philip Clarke.
Sir Richard joined the Treasury in 1975 after studying at the universities of London and Manchester.
After moving into the City, Sir Richard rose to be head of corporate finance at Schroders.
He went back into government as head of Customs & Excise between 2000 and 2003, after which he was knighted.
Analysts said Sir Richard's experience in both government and the city would be valuable to Tesco.