US aid to Pakistan: What next after Bin Laden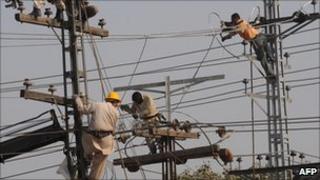 America has given Pakistan $18bn (£11bn) in aid since 2002, but some question whether the money has been spent wisely.
Since the death of Osama bin Laden at his compound near a Pakistani army barracks, the financial relationship between the two countries has come under close scrutiny.
One member of the US Congress has said that before any more money is sent to Pakistan, the country must decide which side it is on.
Another senator has said there should be more strings attached to any US taxpayer-funded aid to Pakistan.
Endemic corruption
Austin Long, a professor of international and public affairs at Columbia University in New York, maintains that the US security aid has done a lot to build up some Pakistani capabilities.
"It has helped them with their security efforts - the case of Osama Bin Laden being a notable exception," he says.
However, he does not feel as confident about the development assistance which the country has received.
"Some of it has done some good, particularly in frontier regions, but it is tough to know where a lot of it goes," he says.
"The same is true to some extent with the military aid, although when you see the success the Pakistani troops have had against terrorism you can see what you are getting for the money," he notes.
One of the greatest challenges facing Pakistan's political system, is to eradicate endemic corruption.
"Corruption is not at the catastrophic levels of some countries," Professor Long says, "But a proportion of any aid can be considered to have been diverted to other things."
Military might
There are forces preventing a wider spread of entrepreneurial capitalism in Pakistan.
Professor Long believes Pakistan is where India was before the deregulation which took place after the end of the Raj.
"In Pakistan you have a very powerful military which has an interest in businesses," he says.
"The military has an entrenched economical lead in both agriculture and industry, so Pakistan society and economy will have to undergo some profound changes to unleash the capitalist spirit - which is there."
Negative impact
There are concerns about what would happen if US funds, supplied by the US Agency for International Development (USAID), are turned off.
"It would not be immediately catastrophic," says Professor Long, "But the country's economy has not being doing well for some time now with extremism and natural disasters such as flooding and earthquakes."
He notes that the economy has been under stress for some time, so the loss of that US aid would ultimately have a major impact - particularly on the military, which sees itself as the guardian of stability in the country.
Aid is not the only thing keeping Pakistan's military bound together, but it is certainly helping.
"The government could find the money to keep the military functioning but that would be money diverted from other projects, and so the economy would begin a downward spiral," he says.
Repeat scenario
There is no indication that the US administration is about to review its aid policy.
But what effect has the chill in the political relations between the US and Pakistan had, especially on the business climate and inward investment?
Kamran Mizra, chief executive of the Pakistan Business Council, concedes that the world is looking at the country very suspiciously.
"In the short term, things are not looking good for Pakistan," he says.
He hopes that the current issues and problems are resolved and that Pakistan can get back to a normal relationship with the US.
"After the events of 11 September 2001 we had a very similar situation but we bounced back and we had the highest domestic growth between 2003 and 2007, along with a very large inflow of foreign investment," he says.
Bigger profile
Some people have raised doubts that money put into the country by the American taxpayer is not doing what it is meant to do and should be used in other ways.
"I cannot underestimate the need for security. We cannot ignore that we live in a very tough neighbourhood," Mr Mizra points out.
"But I think US aid should focus more on development and working more with the private sector, rather than giving money to government agencies," he says.
"It would yield better results and also create employment and impact the common man more visibly."
Success story
Even prior to the death of Osama Bin Laden, the image of Pakistan fighting terrorism on a daily basis affected the travel plans and investment plans of foreign investors.
"But the multi-nationals already operating in Pakistan are doing extremely well," Mr Mizra says.
"The returns on investment are very good, despite the additional costs of paying for their own security arrangements," he adds.
He believes that foreign investment can help with infrastructure and the provision of energy, whilst foreign aid should go to improving the education and health facilities of the country.